Some people might be aware of sealcoating, while others might hear the term for the first time. But the fact is, everyone has seen it with or without knowing. From public parking lots to personal driveways, every asphalt surface needs sealcoating.
But not every company can get the sealcoating process right. There are dozens of factors that affect the quality and longevity of sealcoating. Hence, the sealcoating company must be an expert in the field.
Enter Enright Asphalt, a family-owned and locally operated company, and we have been in the field for over 30 years. We are proud to provide top-notch seal coating services to our community.
We are licensed and insured, use only the highest quality materials, and have a skilled and trained crew. Our goal is to ensure that your driveway, parking lot, or any other paved surface looks new.
Commercial Sealcoating
Commercial sealcoating is typically done every 2-3 years, depending on the condition of the asphalt and the amount of traffic it receives. It is an important aspect of maintaining commercial properties and prolonging the life of asphalt surfaces.
It is important to note that not all sealcoating materials are the same. A more durable and thicker sealcoat, while it will cost more, provides better protection and can decrease how often you need to have your parking lot seal coated.
Driveway Sealcoating in Westminster
With the years of expertise we have gathered, nobody understands the driveways as we do. From the right understanding of the weather condition to the type of vehicles driven, we take every factor in.
This meticulous assessment and understanding are what led us to offer the best driveway sealcoating service in Westminster. Tailored to your custom needs and the added benefit of our experts will get your driveway the perfect sealcoating.
Why Should I Sealcoat My Asphalt Surface?
Sealcoating asphalt has several benefits for both residential and commercial properties. Some of the main benefits include:
Protection from the elements: Seal coating creates a barrier that protects the asphalt from water, the sun's UV rays, and other environmental factors that can cause damage over time.
Let's look at the benefits of sealcoating your asphalt surfaces:
Longevity
Aesthetics
Safety
Cost-effective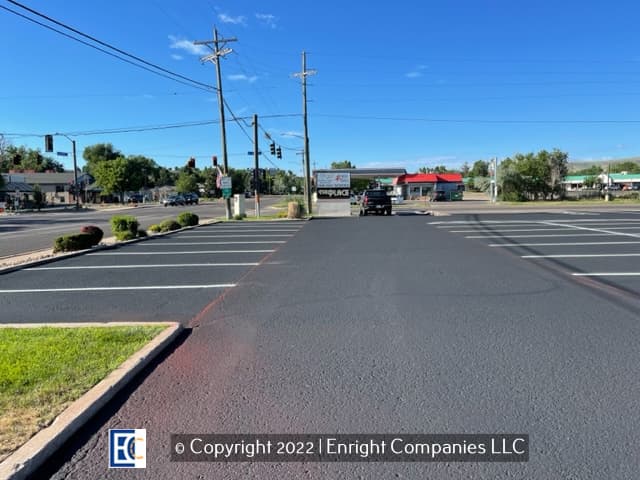 How Does Sealcoating Help?
Sealcoating helps protect and extend the life of asphalt surfaces by creating a barrier against the elements. The sealcoat material is applied as a liquid and dries to form a protective layer over the asphalt. This layer helps to:
Block UV rays: The sun's ultraviolet (UV) rays can cause the asphalt to dry out and become brittle, leading to cracking and other forms of damage. Sealcoating blocks the UV rays, helping to keep the asphalt pliable and resistant to cracking.
Repel water: Water can penetrate the asphalt and cause damage from freezing, thawing, and erosion. Sealcoating forms a barrier between the inner structure and water, thereby protecting it from damage by water infiltration.
Extend lifespan: Sealcoating can extend the life of your asphalt by as much as 30%. It has helped people save a lot of money by delaying the need for costly repairs or replacements.
Do You Use Coal Tar Sealers?
We completely refrain from using coal tar sealers due to many reasons.
One of the main concerns is that coal tar sealers can release harmful chemicals, such as polycyclic aromatic hydrocarbons (PAHs), into the environment. PAHs are known to be carcinogenic and can be harmful to plants and animals.
Why Choose Enright for your Asphalt Sealcoating?
Choosing the right company for sealcoating is crucial. Not just for the driveway's longevity and other asphalt surfaces but also because of safer raw materials.
With decades of expertise, skills, and understanding of our field, Erickson has carved and sealed its space in the sealcoating business. With sustainable methods that protect health and the environment, we offer the best sealcoating service.
So contact us now, and let's get started with proper protection with the best sealcoating service you can get.