While parking lot sealcoating keeps your pavement looking neat and vibrant, there's more to it than just aesthetics. Proper asphalt sealcoating can help increase the lifespan of your parking lot, saving you money on renovations and repair in the long run.
Enright Asphalt fully understands the importance of having a perfect parking space for any business establishment. A well-maintained parking lot can make a great first impression on your guests and sets the tone for their experience as they enter your building.
We at Enright Asphalt use only the best materials, quality equipment, and up-to-date techniques to ensure you can get the perfect parking lot sealcoating results. We pride ourselves in providing the best possible outcome and doing so with utmost consideration of your business operations. We offer tailor-fitted solutions to ensure we can get the job done while minimizing downtime to your lot.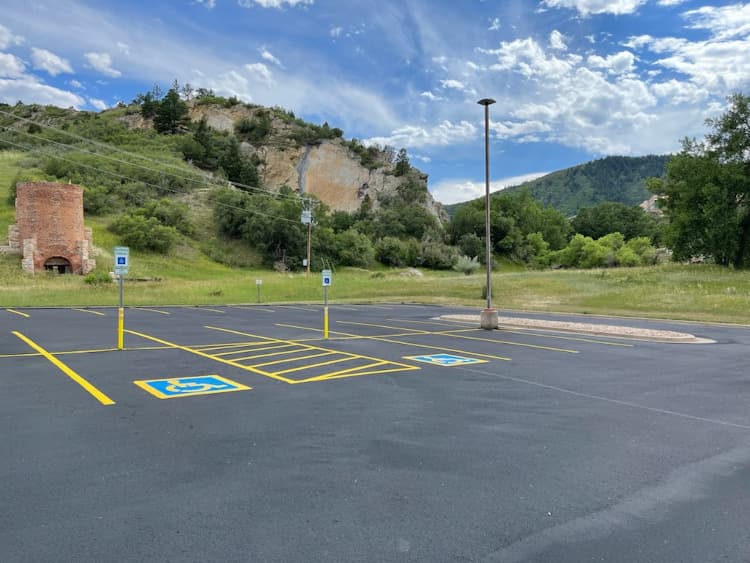 Sealcoating Increases Asphalt's Lifespan
When asphalt is exposed to the elements it oxidizes, which causes it to deteriorate over time. And when that happens, your pavement will be prone to cracks, fatigue, and ultimately, failure.
Asphalt sealcoating can significantly reduce the rate of your asphalt's oxidation and increase its lifespan, all while protecting the pavement from other harmful elements like water and sunlight.
For larger cracks, hot crack sealing can be done before the sealcoating process to help mitigate potential damages in the future.
We at Enright can help protect your investment and make the most out of it while minimizing your overhead expenses.
Benefits of Sealcoating
Aesthetics
Sealcoating gives your asphalt a dark black, brand-new look in contrast to a faded and old-looking asphalt pavement. This gives your business a chance to make a great first impression and build a good image.
Reduces Oxidation
As mentioned earlier, sealcoating reduces your asphalt's exposure to oxygen and UV rays that can shorten the lifespan of your asphalt.
Prevents Water Penetration
When water seeps through your asphalt's cracks, it can cause costly damage to your pavement over time. Sealcoating keeps that from happening by eliminating any entry points for water to penetrate.
Easy Maintenance
Sealcoating your asphalt results in a smoother surface, which in turn makes your pavement easier to clean and maintain.
Increase Pavement Pliability
Sealcoating allows your asphalt to absorb and retain more heat on your asphalt and make it more pliable and resistant to heavy loads without cracking.
Cost-Effective
Properly sealcoated asphalt parking lots last longer than unsealed ones. You will have fewer repairs, renovations, and even safety issues that can cause additional expenses.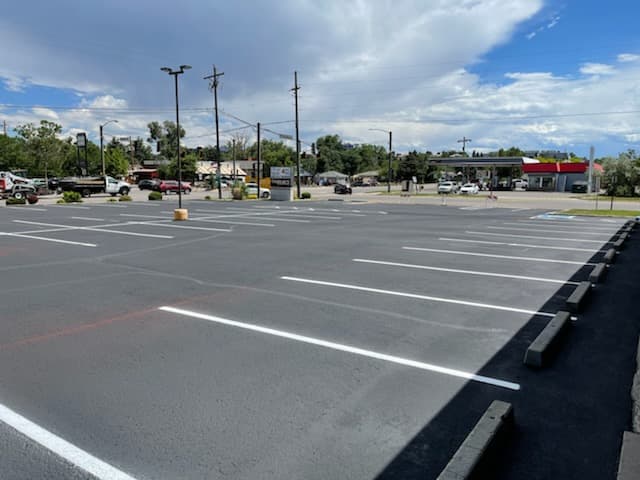 Frequently Asked Parking Sealcoating Questions
How long after sealcoating can I use my parking lot?
Pedestrians should be able to walk on newly sealcoated asphalt after the sealer is dry to the touch or approximately 4 hours. On the other hand, vehicles can use your parking lot after 24 hours minimum from the time of application.
How often should I have my parking lot sealcoated?
For best results, you should have your parking lot sealcoated every 2-3 years, depending on the amount of traffic you experience daily.
Should I coat my new asphalt parking lot?
No. You should not seal coat your new parking lot. Ideally, you will want to wait 6-12 months.
Do You Use Coal Tar Sealer?
No, we do not use coal tar for two reasons. There have been multiple studies done indicating coal tar sealer can have environmental impacts on the watershed. We value our employees, and coal tar sealer can cause skin irritation, not to mention the smell.
We primarily use a polymer modified sealer from SealMaster or Vance Brothers. Polymer modified sealers provide maximum durability, with added strength, adhesion, flexibility, fuel resistance and UV resistance.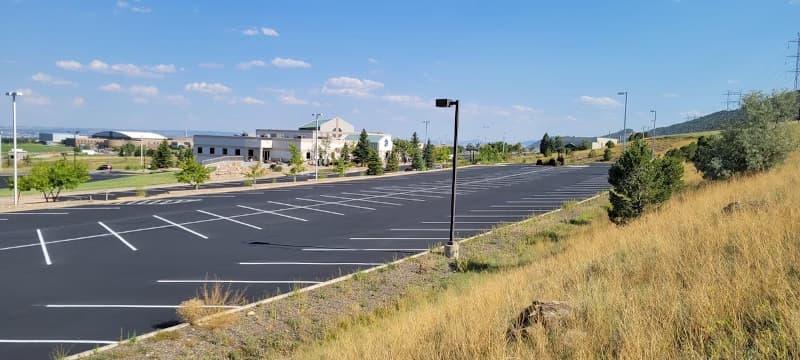 Why Choose Enright Asphalt Company
For over 30 years, we've been lucky to serve thousands of customers in and out of Denver with their asphalt paving and sealcoating needs. Over the years, we are able to not only establish ourselves as the industry leader but also master our craft.
We use only the best materials, sealcoating application techniques and equipment based on our years of experience in the industry, as well as our continuous learning and development. Rest assured, Enright Asphalt can help you protect your investment using our unparalleled workmanship and attention to detail.
This way, you can reduce expenses, keep your asphalt protected, and give your business establishment a great image.