Before we became Enright Companies, we were known as Enright Asphalt. Though we've ventured out in the years since our founding to serve a broader range of services, asphalt is still our personal favorite. We've been in the asphalt business for three decades and have seen just about every asphalt problem there is to see in the Denver metro area. This level of experience in your neighborhood makes Enright Companies an excellent hire, no matter what problems your asphalt is giving you. Let's learn how we can spruce up your asphalt.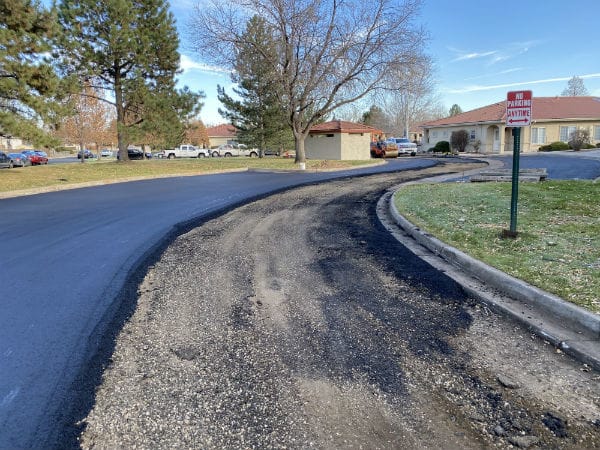 Residential and Commercial Asphalt Repair and Maintenance
Enright can assist with regular maintenance and repair on your asphalt surfaces, it's how we started. We can patch potholes, fill in cracks, reseal your lot to keep it looking beautiful for years, as well as help with any other asphalt repair or maintenance. We can bring our expertise and care to residential homes to commercial lots. If you have a commercial parking lot, Enright can assist with striping and repainting all lines to give you a beautiful new lot with clean and bright markings.
Full Asphalt Services
Crack Seal and Seal Coat
If your asphalt only has minor damage, you don't need to go through the pain of resurfacing if you choose Enright. Crack sealing and seal coating are necessary regular maintenance that can help with cracks and extend the life of your asphalt by several years. A new seal coat also lets your asphalt shine like the first day it was poured.
Infrared Patching
Infrared patching is another tool in our arsenal that can help keep you from resurfacing or scraping your asphalt. If you have recently poured concrete and want to repair minor imperfections or if your asphalt is only slightly damaged, we can use infrared patching for a quick fix.
Overlay
The top of your asphalt may look crumbled and nasty, or it might be pooling water, but if the underlying base is in good condition, we aren't going to suggest the cost and pain of full replacement – we can do an overlay instead. We most often overlay areas that aren't graded correctly and have low spots.
Remove and Replace
If our technicians find that the base of the asphalt is damaged, it may be beyond saving. We offer competitive rates for removal and replacement of residential and commercial asphalt with thirty years of local experience behind every estimate.
Inspection
If you're unsure about the condition of your asphalt, have us come out to give an expert opinion. Our expert eyes can determine if your asphalt is healthy and well-maintained or if you could use maintenance like patching or seal-coating. We operate with honesty and integrity and will recommend the best and most cost-effective solution depending on your unique problem.


To find out more about Enright's asphalt repair and maintenance services or to get directly in touch, give us a call or head to our contact page. Enright services lots, concrete, and more, but we've always kept our asphalt services number one in our hearts. There's no asphalt job too big or too small, for a free estimate on your job, give us a call.