Parking Lot Patching & Pothole Repair
Colorado's winters are not as bad as you think. It offers lots of opportunities for outdoor activities such as skiing and snowboarding. That said, even the mild winter weather can still cause extensive damage to your asphalt.
Cold and moisture can be detrimental to your asphalt's condition. And the longer you wait before you seek help from asphalt contractors, the larger the damage's extent could be, and the more costly it becomes to repair them. Enright Companies can help you prevent and/or repair these damages to keep your asphalt in top shape.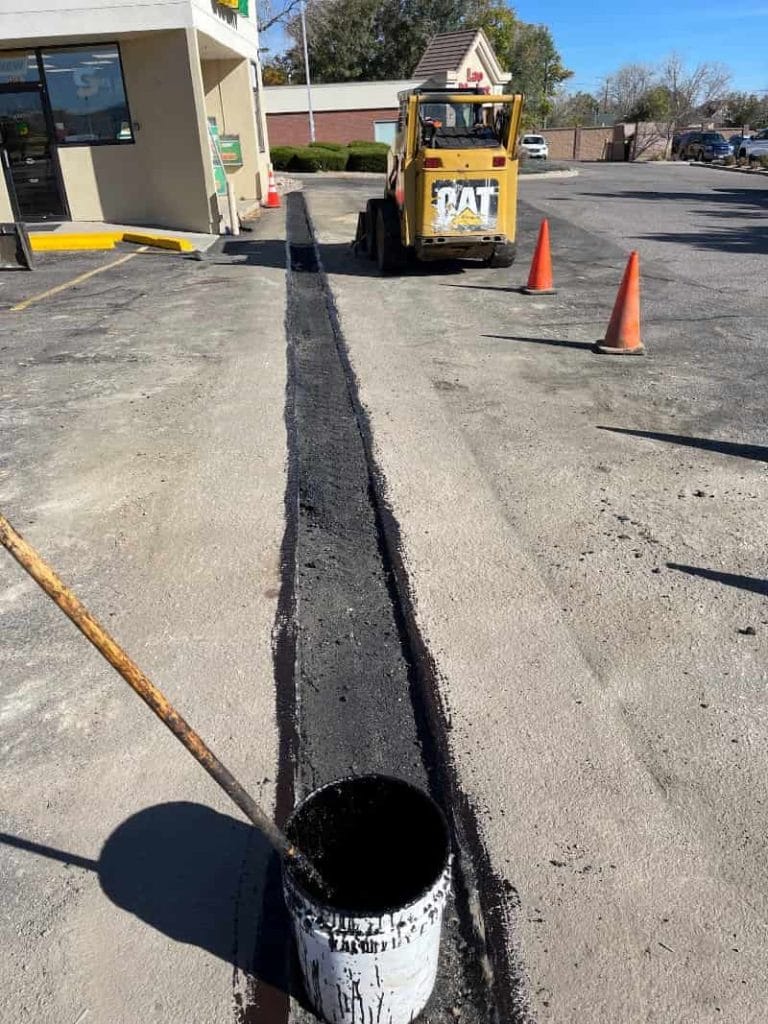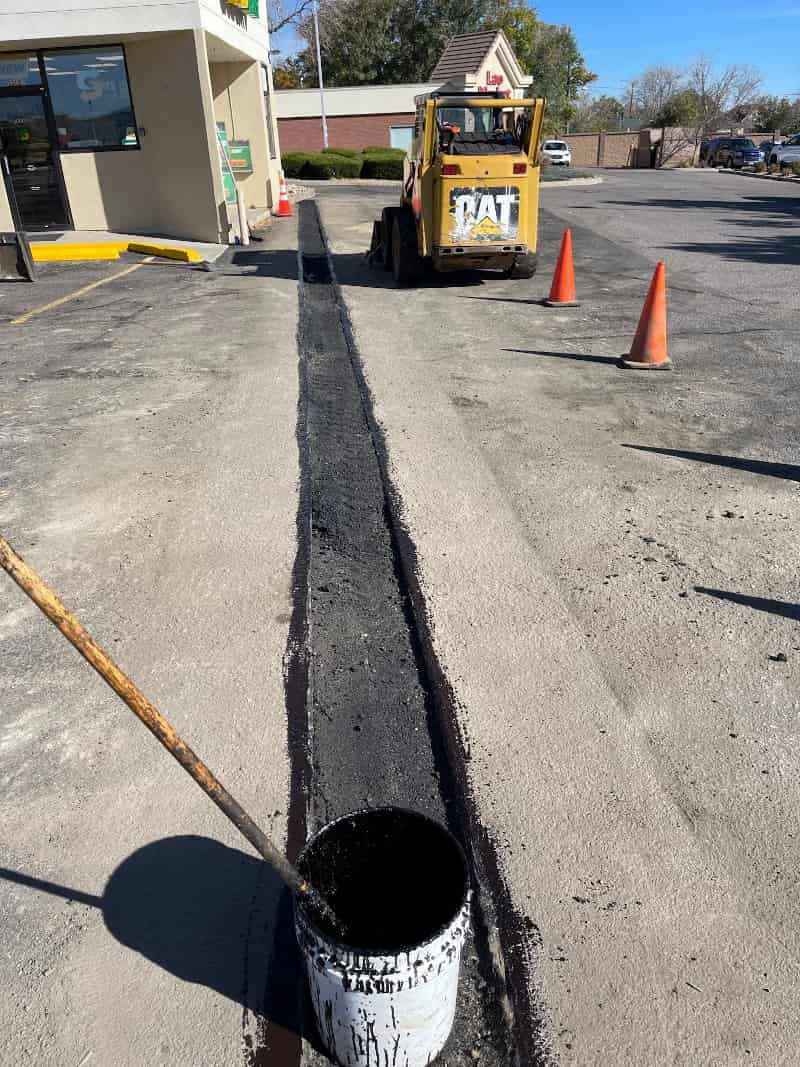 What Causes Potholes?
There are different factors that can cause potholes. It can be due to poor subbase prep, defective subbase materials, or poor parking lot maintenance. However, it all boils down to having cracks in your pavement.
Cracks, no matter how small, can allow water to seep through your asphalt. And when the water that seeped through freezes, it expands and increases the size of the crack. As the water melts, it leaves a bigger gap allowing more water to penetrate. Over time, this freeze-thaw cycle can weaken the base and the soil beneath it, and won't be able to support the weight of traffic, and cracks become even larger and turn into a pothole.
During springtime, temperatures fluctuate greatly and this freeze-thaw cycle can happen more often, accelerating the damage to your asphalt, and increasing the likelihood of potholes forming in your pavement.
If left unchecked, small cracks can turn into small potholes that would allow even more water to seep through and cause the damage to be more expensive to repair.
How to Prevent Potholes
The best way to prevent potholes from developing is to keep water from entering its base. And to do that, you have to follow an asphalt maintenance plan that will keep your asphalt in good shape.
One way to do this is to sealcoat your parking lot every 2-3 years. Parking lot sealcoating and crack sealing will help prevent water from entering the base. It also slows down the asphalt's oxidation and keeps it less prone to cracking.
It's essential to make sure you fix any cracks you may have as soon as you notice them before they turn into more significant problems. By doing all these, you'll be able to save more money while keeping your property safe and inviting.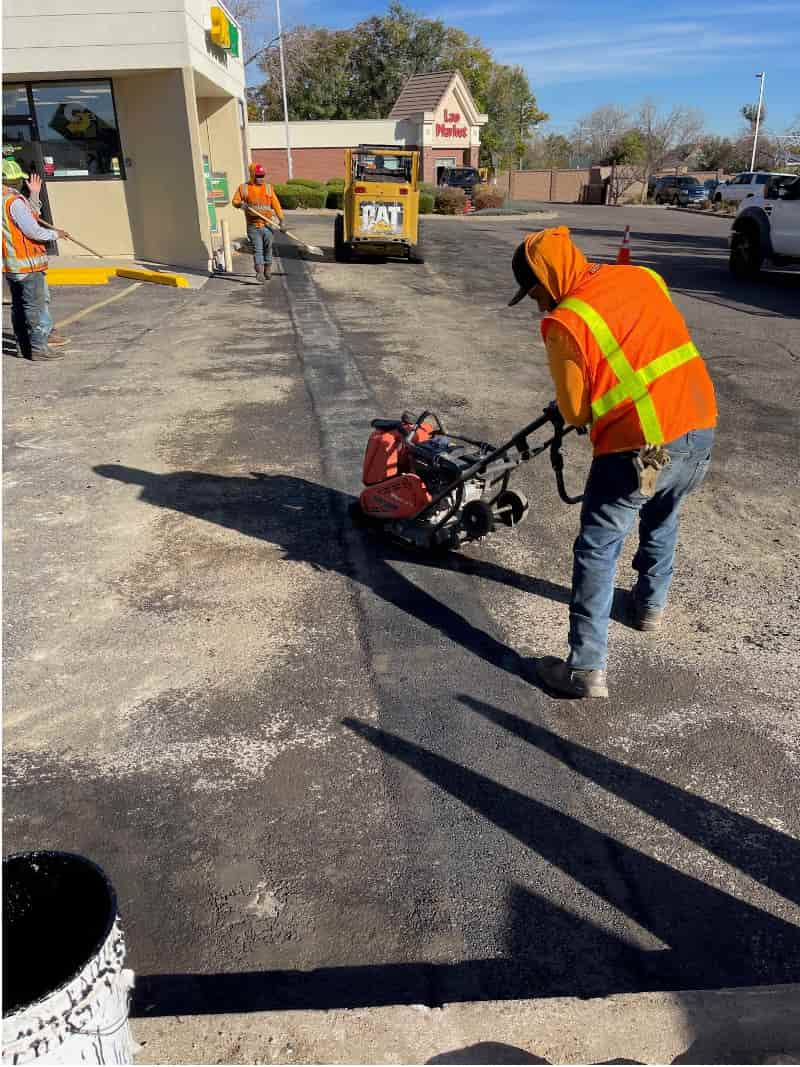 How is Asphalt Patched
If your parking lot has potholes already, there are basically three main ways to repair it.
Cold Asphalt Patch
Cold asphalt patch is usually used as an immediate, temporary fix until a more suitable solution can be done. Known as "Throw and Roll", the process involves putting cold mix asphalt into the pothole and compacting with a roller or plate compactor. Due to Denver's mild winters, we seldom have to use this repair method, but works well for quick fix when pedestrian and vehicle safety is a problem.
Infrared Repair
This temporary paving solution involves heating the existing asphalt material until it is soft, and then new asphalt is mixed in before being compacted with a roller. Due to costs, limitations and the lifespan of the repair, we do not recommend infrared repair.
Hot Asphalt Patch (R&R) (Milling Repair & Patch)
A hot asphalt patch pothole repair is a better long-term solution that can fix potholes.
With this method, the pavement around the pothole is excavated before being filled in and sealed with hot asphalt. This type of pothole repair addresses the underlying issues not just on the pothole itself but also on the base. This ensures that all cracks are sealed so water won't be able to penetrate the base and cause another pothole.
Why Choose Enright Companies?
Since its foundation more than 30 years ago, Enright has helped thousands of local Denver customers with their asphalt needs. Be it asphalt paving, asphalt maintenance, or pothole repairs, our level of dedication and proven quality has helped us maintain our reputation as a leading asphalt contractor in Denver.
With our experience, we are continuously improving and adapting to the latest, most effective techniques while using the highest quality materials for every project. Rest assured, when you work with us, you'll get the same level of attention to detail and craftsmanship as our loyal customers, who we've been serving for more than three decades