Parking lot striping is more than just applying paint to your pavement. It's about increasing your parking lot's efficiency, safety, accessibility, and even ensuring compliance with building codes.
Your parking lot is the first thing people see, and you want to make a good first impression. With good parking lot pavement markings, you can effectively communicate with drivers, so the traffic flows smoothly, you can maximize your space, and reduce your liabilities in case of any issues that may arise.
Enright Asphalt, with over 30 years of experience being the leading asphalt contractor in Denver, can offer you unmatched workmanship when it comes to parking lot maintenance, pavement marking, and line striping.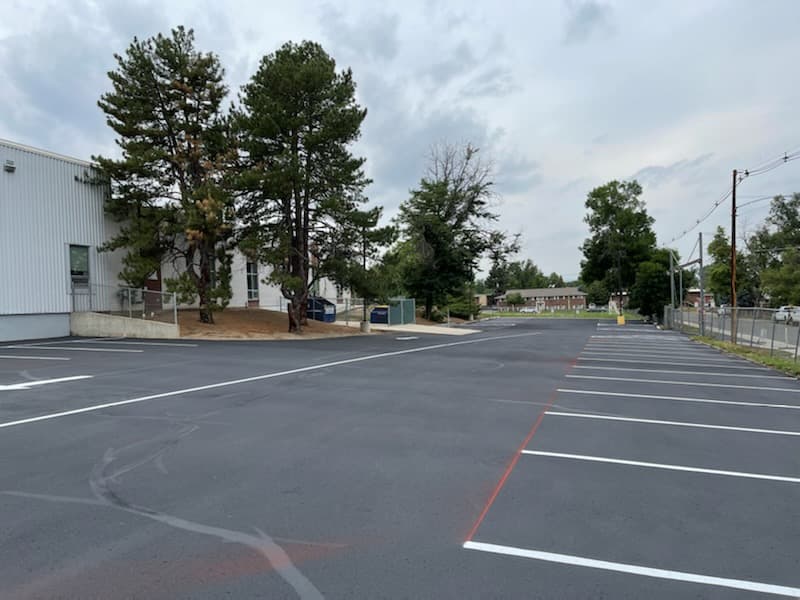 Parking Lot Design & Layout
There are a lot of factors to consider when it comes to striping your parking lot. All of these factors play a role in keeping your parking lot safe, orderly, and efficient from the entry and exit points, pedestrian friendliness, maximizing your space, and even complying with the law.
Enright Asphalt can help you create an effective parking lot design and layout which will improve the flow of traffic in your parking spaces and more. We know every relevant law and ordinance like the back of our hand, and we can make sure all of your bases are covered.
ADA Compliance
Keeping up with the ADA requirements is a must for everyone who owns a business establishment. That is unless you want to pay hefty fines, go through costly and time-consuming lawsuits, or risk the safety and convenience of your disabled guests.
We can help you stay up to code with ADA requirements and avoid all of these potential problems.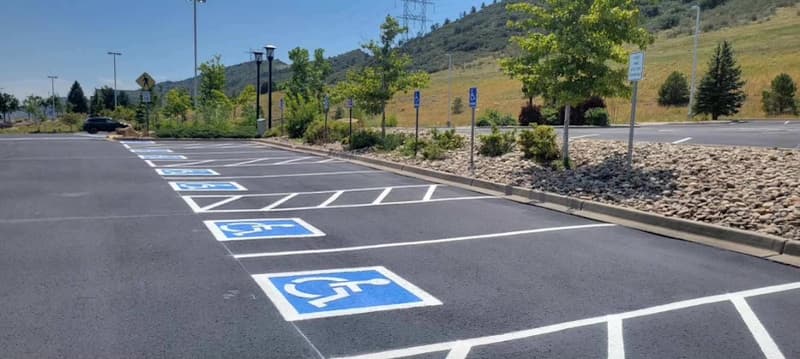 Commonly Asked Questions
How long does paint take to dry?
There are a lot of factors that can affect this, such as the temperature, wind, humidity, number of coats of striping paint applied, the type of paint used, and more. That said, Enright Asphalt can work with you to identify the best schedule to minimize or even eliminate any obstruction to your usual business operations.
How often should I re-stripe my parking lot?
Generally speaking, it's a good idea to re-stripe your parking lot every 18 months or as needed. This ensures that your pavement markings are bright and visible at all times. However, there are many factors to consider such as the climate, the amount of traffic that passes through it, and the kind of paint you used for your last striping.
Can you stripe at night?
We at Enright Asphalt know that time is money. And we know how important it is to avoid or at least minimize any possible disruptions to your business operations. We will work with you on scheduling to reduce downtime of your parking lot.
Can you stripe in the rain?
Since both parking lot sealcoating and paint rely on evaporation for drying and curing, striping your parking lot in the rain will not be possible. We keep a close watch on weather forecasts for any project we do to provide the best possible result. If there's any chance of rain, we'll work with you to find another suitable schedule for us to complete the project.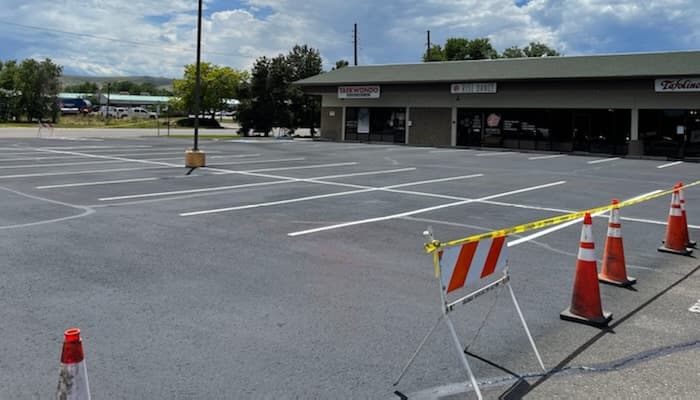 Why Choose Enright Asphalt
For more than 30 years, we've been providing our asphalt paving and striping services to our local Denver customers. Over the years, we've mastered our craft to ensure only the best results possible for every project we work on, and we're proud to say that our commitment to excellence has helped us stay this long in the business.
With Enright Asphalt, you can be assured you'll get premium parking lot striping services and get the job done right the first time around.
Contact us today!