Sealcoating is vital to maintaining the integrity and appearance of any asphalt surface. Whether it's a driveway or a commercial parking lot, sealcoating improves the durability and visual appeal of the surface.
However, not all sealcoating companies are created equal. That's why residents and businesses of Thornton choose Enright for all their sealcoating needs.
Our company offers exceptional service at competitive prices, and we are locally operated, licensed, and insured. With over 30 years of experience, our skilled and trained crew uses only the best materials to ensure top-notch results.
As a family-owned business, we take pride in our work and strive for 100% customer satisfaction.
Driveway Sealcoating in Thornton
Sealcoating not only helps in protecting parking lot asphalt surfaces, but it also helps in protecting your asphalt driveway as well. Multiple factors, such as Thornton's climate, temperature difference, moisture, etc., affect the condition and longevity of asphalt.
The sealcoating company needs to understand all these factors to provide the best solution to maximize your asphalts lifespan. Since our company is locally operated, we have garnered all the experience and information to provide excellent sealcoating for your driveway.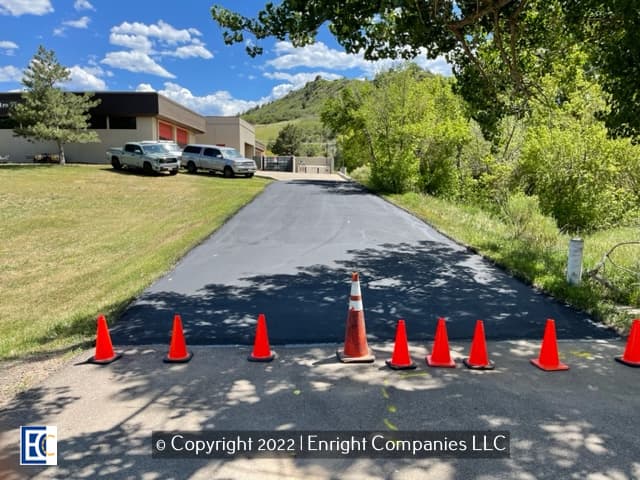 Commercial Sealcoating
Maintaining the condition of commercial parking lots and roads is crucial to ensure safety and avoid expensive repairs. One of the most effective and cost-efficient ways to protect and preserve these surfaces is through sealcoating.
Our company is dedicated to providing efficient, convenient, and affordable sealcoating services for businesses to keep their asphalt surfaces in top condition.
Common Sealcoating Questions
Sealcoating is a protective coating applied to asphalt surfaces to extend their lifespan and improve their appearance. It is commonly used on driveways, parking lots, and roads.
There are many questions that people commonly ask about sealcoating, such as when is the best time to apply it, how often one should reapply it, and what are the benefits of using sealcoating.
Let us look at some of the most commonly asked questions and provide the information you need to make an informed decision about sealcoating your surface.
How frequently should sealcoating be done on an asphalt driveway?
It is important to determine the appropriate frequency of sealcoating an asphalt driveway. Generally, it is recommended to sealcoat every 3-4 years, but this can vary depending on factors such as the amount of traffic the driveway gets, the existing condition of the asphalt and the weather.
Heavy traffic and harsh weather can cause wear and tear to the surface, which may require more frequent sealcoating (2-3 years).
Can you apply sealcoating over an existing coating?
Yes, we can apply sealcoating over existing coating. However, its best not to seal coat to often because build up of coating can cause issues. It is better to wait 2-3 years to allow the existing coating to wear off some.
How long does sealcoating take to dry?
Generally speaking, walking on the newly sealed surface is safe after 5-8 hours, and driving on it after 24-48 hours is safe.
The drying time for sealcoating can vary depending on factors such as temperature, humidity, and the thickness of the coating applied. Typically, sealcoating takes 24-48 hours to dry completely.
Why Choose Enright for your Asphalt Sealcoating?
When you choose Enright for your asphalt sealcoating needs, you can expect a team of skilled and professional technicians to handle the project.
Whether a small driveway or a large commercial parking lot, we use top-quality sealants and equipment to ensure the job is completed correctly and efficiently.
With Enright, you can trust that we will do your sealcoating service to the highest standard at a reasonable price. Contact us today for more information and to schedule your service.