Most people consider asphalt the "standard" driveway material, and for good reason: it's cheap, reliable, and crack-resistant. However, concrete can also be an excellent choice for driveways due to its versatility, affordability, strength, and durability.
Concrete driveways present another advantage in that they require less maintenance. For example, while asphalt driveways require re-sealing every few years, concrete driveways really don't require sealing at all, provided they are made with high-quality materials.
Though not required, concrete driveway sealing is highly recommended, as it only costs a few cents per square foot and can extend the life of your concrete driveway even longer. Because it's porous, concrete tends to suck up moisture, which can lead to expansion and subsequent cracking. Using a concrete sealer can help prevent this, leaving your concrete driveway more protected from wear and tear and the elements.
In addition to protecting your concrete driveway, concrete sealers can add a glossy sheen to your concrete as a visual bonus, and can prevent discoloration and stains due to rust and chemicals.
With several high-performance concrete sealers on the market, choosing the right one can be a challenge. Concrete sealers range from acrylic resin-based (the most popular) to epoxy, polyurethane and penetrating sealers. Depending on your needs, you may find one type of sealer to be a better fit than others.
Here's a quick rundown of 4 of the best driveway sealers for concrete, based on popularity, customer satisfaction, and availability.
Quikrete Concrete Cure and Seal
A household name to anyone who deals in concrete, Quikrete is known for their affordable and reliable concrete products, one of which is their Cure and Seal concrete sealer. At just $28.80 a gallon, it won't break the bank, but it will protect your concrete driveway from water damage and stains. It dries in a "soft satin" finish that provides a bit of gloss without being slippery.
Cure and Seal is meant for "green" or fresh concrete, meaning it needs to be applied as soon as your concrete driveway can bear weight (usually a few hours after pouring). This helps protect the concrete from over-curing (drying out too quickly) which can lead to cracking.
Foundation Armor Concrete Sealers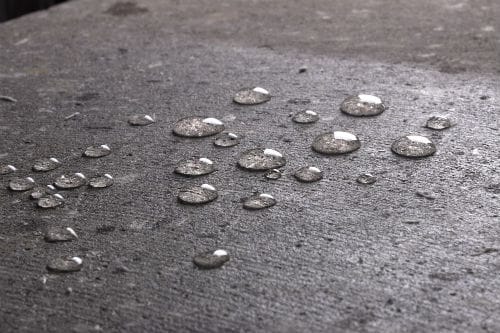 Another staple in the concrete industry, Foundation Armor produces a line of high-quality acrylic, solvent-based concrete sealers in a variety of styles at a price point of $225 per 5 gallons of product. Their AR350 Wet Look and AR500 Wet Look High Gloss sealers offer two ranges of shine, while their SX5000 Penetrating Concrete Sealer offers protection with no changes in the natural appearance of your concrete driveway. The chemicals in the sealer form a hydrophobic barrier within the pores of the concrete, which reduces water absorption by up to 95% for up to ten years.
The biggest downside of solvent-based sealers like Foundation Armor is that a growing number of states in the U.S. are outlawing them due to their containing volatile organic compounds (VOCs). The Environmental Protection Agency has recently revised the acceptable levels of VOCs in concrete sealers and other products, making it harder for manufacturers to continue producing solvent-based concrete sealers.
Concrete Sealers USA Siliconate Multi-Surface Sealer
Concrete Sealers USA PS102 Siliconate Sealer is a water-based concrete sealer that penetrates the pores in a concrete driveway and seals concrete using a methyl-silicone barrier that protects against moisture, mold and mildew, staining and freeze / thaw damage. Like the Foundation Armor SX5000 sealer, the PS102 leaves no visible glossiness or changes in appearance to your concrete driveway.
At $180 for 5 gallons, PS102 isn't cheap, but it's more affordable than most solvent-based cleaners.
ToughCrete Concrete Driveway Sealer
Yet another tried-and-true brand in the concrete business, ToughCrete Concrete Driveway Sealer is a versatile, penetrating siloxane sealer that can be used on driveways as well as garage floors, sidewalks and patios. It also comes with a 10-year satisfaction guarantee from the manufacturer.
Despite a hefty price point of $115 per gallon, a gallon will cover 600 square feet, making this multi-use concrete sealer a favorite to contractors and homeowners alike.
Although these are just a few of dozens of concrete sealers available today, we at Enright feel they stand out amongst the competition as some of the best sealers on the market. It's up to you, the homeowner, to conduct your own research and select the concrete sealer that best works for you.
To learn more about concrete sealing, or to discuss your next concrete project and obtain a free estimate, contact Enright Asphalt today!
Learn more about concrete sealing:
Which Type of Concrete Sealer Do You Need?