Thornton, CO has been served by Enright Asphalt as one of the highest-quality service providers in Colorado, providing driveway sealcoating, crack sealing, asphalt maintenance, and parking lot sealcoating. By focusing on quality, our dedicated teams build a strong, steady relationship with both residential and commercial customers.
Driveway & Parking Lot Sealcoating
It is the binders, or bitumen, in asphalt that harden when exposed to the air. Asphalt weakens as it oxidizes, resulting in cracks and brittle asphalt as it ages.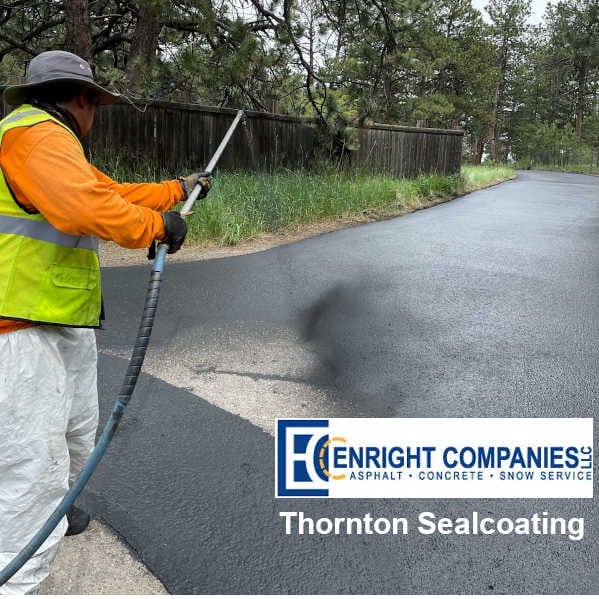 When there are cracks in the asphalt, water gets into the subbase, which destroys its strength. Potholes can occur when an asphalt's subbase loses that strength, causing more cracks or even worse, potholes. In addition to protecting your asphalt from cracking, sealcoating prevents oxidation.
In addition to filling in tiny surface spaces and hairline fractures, sealcoating helps extend the life of your asphalt. Your asphalt maintenance plan should include sealcoating, whether you have a residential driveway or a commercial parking lot. It is generally recommended that asphalt be resealed every two to three years.
Parking Lot Striping in Thornton
A parking lot striping creates a sense of unity within your parking lot by simplifying entry, maneuvering, and exiting.
Thornton, CO businesses can count on us for parking lot striping services. In addition to helping your parking lot remain compliant with ADA requirements, our striping services help bring order to your parking lot. Our striping service will help bring order to your parking lot.
Pothole Repair & Asphalt Patching
Regardless of whether you have a driveway or a parking lot, you can't ignore potholes. When there are cracks in asphalt surfaces, they can quickly grow into potholes. A pothole's size will increase if it is not repaired.
If you're in need of pothole repair and asphalt patching services in Thornton, CO, Enright Asphalt experts are your best choice. With the right tools, materials, and experience, we can help repair your driveway or parking lot.
Asphalt Crack Sealer
Asphalt is the most commonly used material for driveways and parking lots because it is tough and durable. Although this may be the case, asphalt's surface will begin to wear down if it doesn't have a protective seal. Your asphalt's integrity can be weakened by water, oxygen, and chemicals, but sealants can help. In the absence of a sealant, additional cracks may develop.
It can take a lot of resources and money to repair cracks that turn into potholes. We offer asphalt crack sealing services, so don't let potholes happen. A durable sealer is used to seal cracks in asphalt, preventing water infiltration and creating a safer surface.
Thornton Parking Lot Maintenance
Commercial parking lot owners can benefit from our sealcoating services. It is a low-cost maintenance plan that will help you enjoy low ownership costs for businesses with any sized parking lots in Thornton, CO. Plus, we'll make sure your lot remains ADA-compliant.
The following are some of the services Enright Asphalt can provide:
Parking Block Installation
Bollard Installation
Speed Bump Installation
Signage
Why Choose Enright Asphalt?
We pride ourselves on building healthy and committed relationships with our clients at Enright Asphalt. As a company, we strive to treat each client with incredible respect and care.
In addition to providing you with excellent, quality service, we also want to make your time with us a pleasant one. Keeping in touch with us is easy because we'll work around your schedule, minimize downtime, and stay in contact throughout the repair or installation process.