Enright Asphalt is a full-service asphalt maintenance company providing sealcoating services for homeowners and commercial in Niwot. We take pride in providing excellent customer service and quality results for every job. We are fully licensed and insured and strive to deliver each project on time, within budget, and to the highest standards of safety and professionalism.
We understand that your asphalt needs can vary greatly. That's why our team works hard to provide tailored solutions that meet your exact requirements. From repairs and patching to crack filling and resurfacing, Enright Asphalt has the skills and expertise needed to get the job done right.
Our commitment to excellence sets us apart from the competition and guarantees that you will be satisfied with the finished product. If you have any questions or would like more information about our services, please do not hesitate to contact us.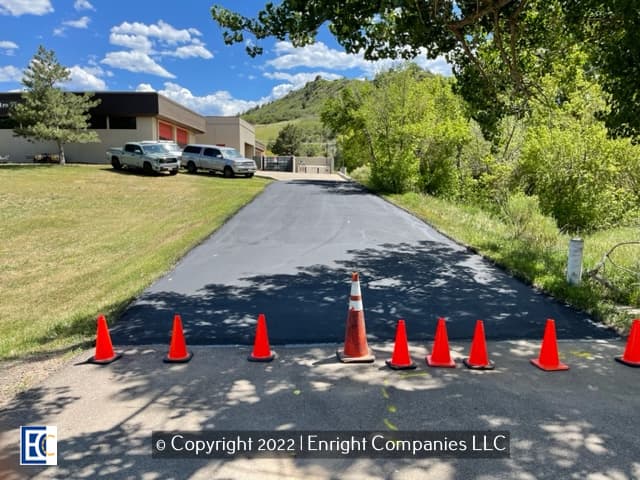 Sealcoating
At Enright Asphalt, we understand the importance of maintaining your asphalt and that's why we offer sealcoating services. Sealcoating helps protect your asphalt from fading due to oxidation and other elements such as traffic, snow removal and water. It also helps maintain a flexible pavement that prevents cracking.
Our team of professionals are equipped with the knowledge and tools needed to provide superior sealcoating services for your property. We use premium quality materials for all our projects, ensuring that your asphalt is properly sealed and protected. Our experienced technicians will work diligently to ensure your job is done correctly.
Driveway Sealcoating
At Enright Asphalt, we understand the importance of protecting your residential driveway with sealcoating every 2-3 years. Sealcoating offers an effective way to increase a driveway's life span from 15-20 years to 20-30 years, while also providing enhanced curb appeal. Investing in sealcoating now will save you money over time by avoiding expensive replacement costs for asphalt driveways.
Our professional team is experienced in residential sealcoating and can help you determine the best solution for your home. We are dedicated to delivering quality workmanship and superior customer service to make sure that our customers receive the highest level of satisfaction. All of our services are fully licensed and insured, so you can rest assured that your property is in good hands.
If you're looking for reliable sealcoating in your area, look no further than Enright Asphalt. With over 30 years of experience, we are here to provide expert advice and top-notch service to meet all of your needs. Contact us today to learn more about how we can protect your driveway and extend its lifespan.
Parking Lot Sealcoating
At Enright Asphalt, our goal is to help commercial sealcoating customers protect their investments in asphalt surfaces. We understand that sealcoating is an important part of an effective asphalt management plan for parking lots and other paved surfaces.
Our experienced team provides comprehensive services with flexible scheduling to meet your needs. We make sure that the process has minimal disruption to your business operations. From working during off-hours or on weekends to creating a customized plan that fits your budget, we work with you every step of the way.
Additionally, we offer a full range of parking lot maintenance services, including striping, asphalt patching and much more.
Our commitment to customer service is second to none. We are fully licensed and insured, providing peace of mind that your project will be completed correctly and safely.
Can you apply sealcoating over an existing coating?
Yes, we can apply sealcoating over existing coating. However, its best not to seal coat to often because build up of coating can cause issues. It is better to wait 2-3 years to allow the existing coating to wear off some.
How long does sealcoating take to dry?
Generally speaking, walking on the newly sealed surface is safe after 5-8 hours, and driving on it after 24-48 hours is safe.
The drying time for sealcoating can vary depending on factors such as temperature, humidity, and the thickness of the coating applied. Typically, sealcoating takes 24-48 hours to dry completely.
Why Choose Enright for your Asphalt Sealcoating?
When you choose Enright for your asphalt sealcoating needs, you can expect a team of skilled and professional technicians to handle the project.
Whether a small driveway or a large commercial parking lot, we use top-quality sealants and equipment to ensure the job is completed correctly and efficiently.
With Enright, you can trust that we will do your sealcoating service to the highest standard at a reasonable price. Contact us today for more information and to schedule your service.