Enright Companies has been the premier paving company for over three decades. We offer a variety of services, such as parking lot striping, paving and sealcoating, striping, patching, and concrete. As a small business, we are easy to work with, offering flexible scheduling to meet our customers' needs. Our extensive experience in the paving industry allows us to provide the best value to our customers with high-quality products and services at cost-effective prices, ensuring our clients receive years of use from our work.
Commercial Sealcoating Services in Louisville
Our commercial sealcoating contractor services in Louisville, CO, are available and tailored to meet your asphalt needs. Our team of professionals will evaluate your lot and provide a plan to seal coat and maintain your asphalt. We use top-of-the-line materials and apply them with the most advanced seal coating equipment. Our goal is to help you extend the life of your asphalt and lower your total cost of ownership. With Enright Paving Company, you can trust that your seal coating project will be done right and on time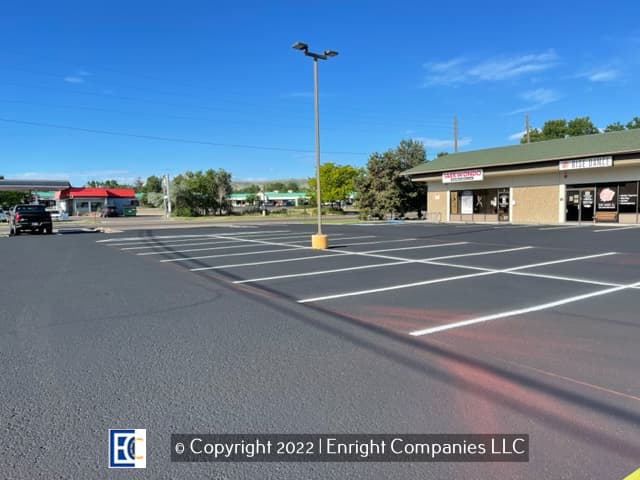 Driveway Sealcoating
Enright Companies offers driveway sealcoating services in Louisville that can help protect your asphalt driveway from the elements. Our sealcoating will limit the oxidation process and make the asphalt more durable. This routine maintenance can extend the life of your driveway by years and is highly cost-effective compared to removing and replacing it. As a result, you can enjoy a longer-lasting driveway with improved curb appeal and increased property value.
How Often Should I Seal Coat My Asphalt Pavement?
Sealcoating asphalt is generally recommended every 3 years, but the frequency of application can vary depending on the original asphalt mix and the amount of traffic on the pavement. Other factors, such as exposure to sun and snow, will also impact the timeline for reapplication.
Will Sealcoating fill cracks?
Yes and No. Sealcoating can effectively fill in small hairline cracks, but it will not be able to seal cracks that are larger than a quarter inch adequately. Enright Companies always uses a hot rubber sealer to seal any cracks that are wider than a quarter inch before applying sealcoating for the best results.
Parking Lot Striping
Striping a parking lot is not just about painting some stripes – it's a way to maximize efficiency, safety, and accessibility, and keep up with building codes. Having clearly marked parking spaces is essential in providing a good first impression while also effectively directing traffic and helping to maximize available space. Additionally, appropriate pavement markings can help to reduce liability risks that may arise.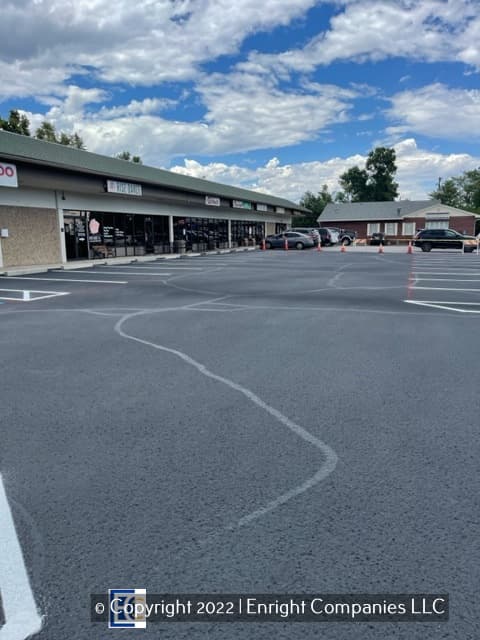 Asphalt Patching
You may not realize it, but winters in Louisville, CO can be quite harsh. Even though we have so many warm days in the winter, the constant temperature changes can cause major issues for asphalt surfaces. The frequent freeze-thaw cycle is the main reason for potholes.
If you find a pothole in your parking lot, its best to address the issue quickly because if left unchecked, the pothole can grow quickly. In the winter, we can use a cold patch to keep the pothole from growing in size. Then when spring comes, we can replace the cold patch with hot asphalt to provide an asphalt patch that will last the lifetime of the parking lot.
Why Work With Enright Asphalt?
For more than 30 years, Enright has been a leading asphalt contractor in Denver, providing high-quality asphalt paving, maintenance, and pothole repair services to thousands of local customers. Our dedication to excellence has allowed us to retain our reputation in the community.
If you need concrete services, snow removal, or any maintenance such as parking lot striping, don't hesitate to contact us for a free estimate. We can't wait to hear from you!