Enright Asphalt has been in business for over 30 years, providing quality service to customers across Longmont. We are fully licensed and insured and have built a reputation of offering exceptional customer service. Our comprehensive range of services includes sealcoating, crack filling, line striping, paving, asphalt pavement repair, and resurfacing. With our experienced team of professionals, you can trust that your asphalt surfaces will be maintained with the highest degree of care and expertise.
At Enright Asphalt, we understand how much you value your property and strive to exceed your expectations on every project. By using only the best materials and utilizing advanced techniques, we are able to provide top-quality workmanship each and every time. Whether you need help repairing existing asphalt or creating entirely new surfaces, we have the knowledge and resources to get the job done right. So, if you're looking for a reliable sealcoating company, look no further than Enright Asphalt.
Sealcoating in Longmont
At Enright Asphalt, we understand the importance of protecting your asphalt from the elements. That is why we offer sealcoating services for both residential and commercial properties. Sealcoating helps to create a barrier between the bitumen in your pavement and the environment, helping to slow down the oxidation process. It also provides an attractive finish that can help enhance the overall look of your property.
Not only does sealcoating protect your asphalt from the elements, but it also fills minor cracks and voids that may have formed over time. This helps prevent larger cracks from forming, which can be costly if left unrepaired. Additionally, regular sealcoating can extend the life of your asphalt significantly.
Commercial Sealcoating
At Enright Asphalt, we understand the importance of having a proper asphalt management plan that will help extend the life of your parking lot and reduce its total cost of ownership. That is why sealcoating is an essential component of such plans. We specialize in working with commercial customers, providing flexible scheduling options, including night and weekend services.
Our team of professionals works closely with you to develop a maintenance plan that limits disruption to your parking lot operations. From helping determine appropriate applications to selecting a high-quality sealant, our experienced staff ensures your parking lot receives only the best care and attention.
We also recognize that each property is unique. Therefore, we customize solutions for each customer based on their individual needs. Our goal is to provide long-lasting protection against weather damage and other hazards. Through preventive maintenance, we can ensure that your parking lot remains safe and aesthetically pleasing for years to come.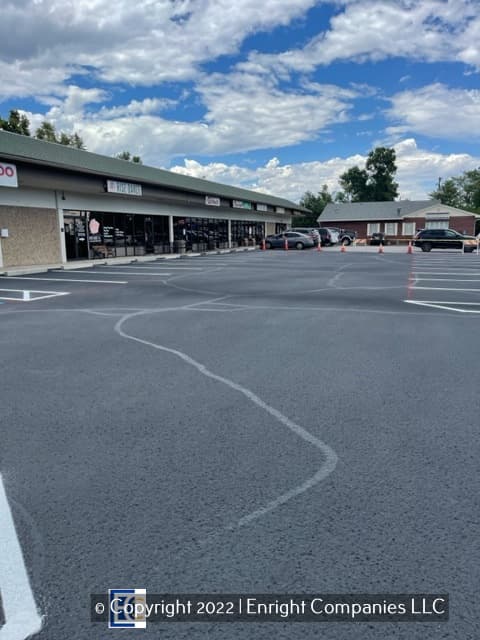 Residential Sealcoating
We specialize in residential sealcoating for driveways. We understand that a well-maintained driveway is essential to any home and can add significant value to your property. Sealcoating every two to three years is the best way to extend the life of your asphalt driveway from 15-20 years up to 20-30 years. Not only does this save you money on costly replacements down the line, but it also adds an attractive curb appeal to your home.
We offer top-quality sealcoating services with our fully licensed and insured team. With over 30 years in business, we have the experience and knowledge needed to get the job done right the first time. Our unmatched customer service ensures your satisfaction, so you can rest assured knowing your driveway is in good hands.
Common Sealcoating Questions
We believe that people can make a much better and smarter choice with the right information. So to help you understand the entire sealcoating process, its uses, and benefits, let's take a look at a few frequently asked questions about sealcoating along with detailed answers.
How often should sealcoating be done on asphalt?
In general, it is recommended to have sealcoating done every 2-3 years for residential driveways and every 2-4 years for commercial parking lots or high-traffic areas.
It's also important to remember that sealcoating is a preventive maintenance, not a cure. If the surface already has substantial damage, it may need more extensive repairs before sealcoating.
Can sealcoating be done in cold weather?
It's important to keep in mind that the ideal temperature for sealcoating is between 50-90°F, and it should not be applied if the temperature is expected to drop below freezing within 24 hours after application. In Longmont the sealcoating season start in April and go through September sometimes early October
So, on average, the overnight temps need to be at least 55 for the coating to dry/cure properly.
Does sealcoating fill cracks?
Sealcoating creates a protective layer over the asphalt surface and can help to fill in small cracks and prevent them from growing larger. It fills hairline cracks, but anything over 1/2" needs to be sealed with hot rubber sealer.
Why Choose Erickson for your Asphalt Sealcoating?
Making a smart choice not only helps you get the best results and service but also saves a lot of money in the long run. Choose us to ensure the best results.
With our experts and their expertise, we assure you will get the best results, as we have been delivering nothing but the best for over thirty years.
Contact us today to schedule a consultation and let our team of experts give your asphalt surfaces the protection they need.