Welcome to Enright Asphalt, the sealcoating company of choice for over 30 years. Our commitment to excellence, superior customer service, and fully licensed and insured professionals have made us a trusted partner for both residential and commercial customers.
We specialize in all aspects of asphalt maintenance, from sealcoating to repairs and installation. Our vast knowledge and experience will provide you with the highest quality of service and the best value for your money. Whether you need a simple patch job or a brand-new asphalt driveway, our team of experienced professionals will ensure that your project is completed with precision, efficiency, and integrity.
Sealcoating
Asphalt sealcoating is important to maintaining your pavement and protecting your investment. Asphalt contains bitumen, a petroleum-based product that binds the aggregate together and gives the pavement flexibility. Over time, this bitumen can dry out due to oxidation and traffic, snow removal, and water, causing the asphalt to fade from black to gray. This process also leaves your pavement more prone to cracking.
Sealcoating helps protect your pavement and slow down the oxidation of bitumen. We apply a layer of sealant to your asphalt, which helps to protect it from the elements and keeps it looking its best.
Driveway Sealcoating
If you want to enhance your residential property's curb appeal, sealcoating your driveway is an economical and practical solution. We specialize in driveway sealcoating and can help you protect your asphalt driveway for years to come. Sealcoating your driveway every 2-3 years can drastically increase its life span from 15-20 years to 20-30 years. In addition, sealcoating your driveway will protect it from the elements and help it last longer. Replacing an asphalt driveway is expensive, so sealcoating it will save you money over the long run
Commercial Sealcoating
At Enright Asphalt, we understand that managing a commercial parking lot can be a challenge. That's why we specialize in providing comprehensive sealcoating services for businesses in Littleton. With our commercial sealcoating services, you can extend the life of your parking lot and reduce the total cost of ownership.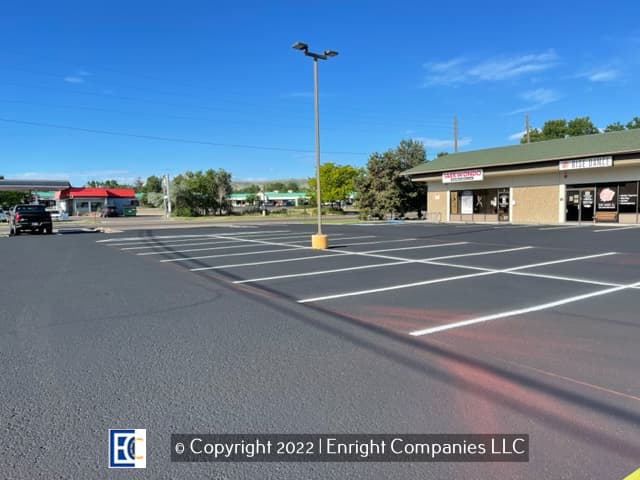 Our team of experienced professionals will work with you to create a customized asphalt management plan that meets your needs. We understand that your parking lot is a vital part of your business. That's why we offer flexible scheduling options and will work around your hours of operation. We can work in the evenings or on weekends to minimize the impact on your business.
When you partner with Enright Asphalt, you can expect quality work and excellent customer service. We use only the highest quality materials and the latest techniques to ensure a lasting sealcoating job. Let us help you keep your parking lot looking great and performing at its best. Contact us today to learn more about our commercial sealcoating services.
Why Choose Enright Asphalt?
We pride ourselves on building healthy and committed relationships with our clients at Enright Asphalt. As a company, we strive to treat each client with incredible respect and care.
In addition to providing you with excellent, quality service, we also want to make your time with us a pleasant one. Keeping in touch with us is easy because we'll work around your schedule, minimize downtime, and stay in contact throughout the repair or installation process.