When looking for an asphalt contractor, it's not enough to look at their past work or the years they have been in business. It's also crucial to see the reputation they have built over the years.
Having been in operation for over three decades, we are delighted to be recognized as one of the leading asphalt paving businesses in Golden, CO. We take immense pride in our work, and we strive to do an excellent job on each and every project we take on, which is why our clients trust us to deliver superior results.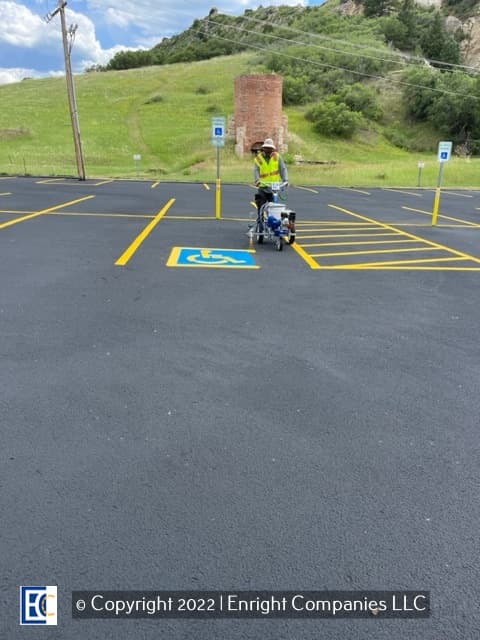 Sealcoating
In simple terms, asphalt pavement is composed of rock or aggregate held together with a binder called asphalt cement. Exposure to elements such as rain, U.V. rays, and chemicals can degrade the binder, causing the asphalt to become brittle. To reduce the effects of these elements and prolong the life of the asphalt, a maintenance program that includes sealcoating should be implemented.

Sealcoating is an essential step in protecting and maintaining asphalt pavement, as it helps to protect the binder from wear, oxidation, and water penetration. The seal coat is applied on top of the surface and fills in surface blemishes and hairline cracks. All cracks larger than ¼" should be filled with crack sealant to prevent water from reaching the base material and weakening it due to freeze-thaw cycles. With regular sealcoating, you can prolong the life of your pavement and keep it looking like new.
Driveway Sealcoating
Investing in residential sealcoating is an excellent decision for your home in the short and long term. Not only will you protect your driveway from the elements, increasing its longevity, but you'll also enhance its appearance. This ideal beautification project will increase your home's value if you plan to sell in the future. Sealcoating your driveway will give a fantastic first impression to anyone visiting your home.
Commercial Sealcoating
At Enright Asphalt, we provide commercial sealcoating that can help extend your parking lot's life and reduce ownership costs. Our sealcoating services can prevent you from prematurely making expensive repairs and replacing the asphalt.
Additionally, we offer flexible scheduling to ensure your parking lot is available during peak times.
Asphalt Patching & Repair
Potholes can be hazardous to people and vehicles, leading to costly damage if not patched. If left unaddressed, the pothole can worsen and become more expensive to repair. Depending on the size and time of year, we can repair your asphalt with either "cold patch" or "hot patch" methods.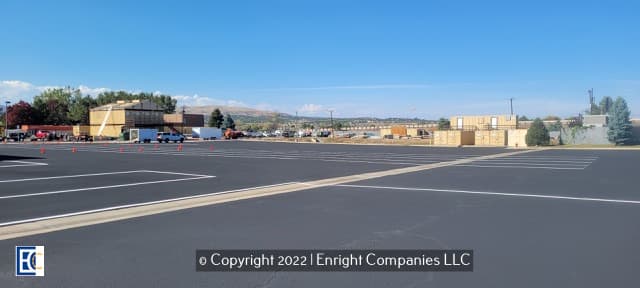 Parking Lot Striping
Striping a parking lot is not a simple task. It requires careful planning to ensure it meets legal standards while also improving traffic flow, organizing how cars park, and making the parking lot look more professional.
Why Choose Enright Asphalt?
At Enright Asphalt, we are committed to providing you with the highest quality services, with convenience and customer satisfaction as our top priority. Contact us today for all your seal coating and striping needs!