Precast concrete brings a lot of advantages to construction projects. Not only is it incredibly versatile; it's also highly durable and easy to maintain. Read on to learn the basic facts about precast concrete, from how it's made to how it's used in residential and commercial construction.
A Very Versatile Material
One of the most common construction materials, precast concrete is used in everything from fences to walls to gates. It can also be used indoors and outdoors, making it one of the most versatile forms of concrete on the market. This versatility is one of the reasons precast concrete structures are so diverse — ranging from bridges and parking garages to stadiums, office buildings, retail shops and residential housing.
Unlike traditional concrete which is mixed and poured on-site, precast concrete is made off-site using a mold. The basic process goes like this:
The concrete is poured into a steel or wooden mold along with rebar, wire mesh or, in some instances, prestressed cable.
It is then cured in a plant or other controlled environment.
Once it is fully cured, the concrete is transported to the final construction site.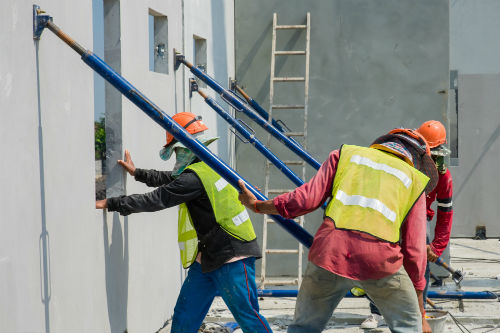 The addition of cable reinforcement is particularly useful in many buildings and structures where concrete strength is essential. The addition of the rebar or wire provides tension within the precast concrete, which is released when curing is complete. The release of the rebar or wire tension helps strengthen the concrete, creating an even more durable material.
Regardless of whether prestressing is used in the fabrication process, precast concrete is generally safer, faster and more affordable than standard concrete. It can also maximize a project's potential while helping to ensure its on-time completion.
One of the most versatile construction products, precast concrete provides the ability to:
Integrate facades
Be reused or recycled upon replacement or removal
Choose diverse combinations of form, color or texture
Create everything from long open spans to small sections
Meet difficult compatibility needs for historic structures
There are two kinds of precast products. Standard products such as decks, beams and railroad ties are molded one way and used repeatedly on specific types of construction projects. The other type is a specialty product, designed specifically for the individual bridge, building or structure where it will be used.
Most precast concrete manufacturers have their own carpentry shops where workers craft forms for the numerous specialty-precast products available. Architectural concrete is usually cast specially for every new project.
Precast concrete molds can be created to a height of up to 20 feet, depending on the scope of the project. Since precast concrete is always created to exact dimensions, it eliminates the uncertainty of how much concrete will need to be poured on-site.
Because it's ready for construction, precast concrete is essentially cheaper to install compared to other types of concrete. This makes it much easier to install because there's no need for equipment and special tools.
One of the other big perks is that precast concrete required little maintenance to keep it in working condition and looking like new. Repair usually means simply replacing a panel as opposed to having to repair it as you would with traditional concrete.
Precast concrete also stands up to the weather and elements very well. It's solid, durable, and you never have to worry about mold or rot. It's generally waterproof, rust-proof and fireproof. It won't fade or warp over time, which makes for a great investment, especially when you need to match colors with your home.
Whether your project requires precast concrete or an on-site pour, it's important to work with a reputable contractor with diverse capabilities and extensive expertise. With unrivaled experience, Enright Asphalt can help you determine the most effective paving option based on your distinctive needs and preferences. Our team knows the best way to provide durable, attractive solutions that stand the test of time and fit your individual budget. Contact us today to learn more.