Enright Asphalt has been providing superior asphalt services for the past 30 years. We pride ourselves on delivering excellent customer service and are fully licensed and insured. Our professional staff is equipped with all of the necessary skills to complete any project with precision and expertise. From seal-coating and paving to repair, our team will provide you with quality workmanship and a finished product that exceeds your expectations. Whether you need an entire parking lot paved or just a few repairs made, Enright Asphalt is here to help.
We also offer services such as crack filling, parking lot striping, asphalt repair, and more. Our experienced team can handle it all, regardless of the size and scope of your project. Our mission is simple: to deliver high-quality results and provide you with the most value. When you choose us for your asphalt needs, you know you get quality service from a reliable company. With decades of experience under our belt, you can trust that the job will be done right the first time around. Contact us today and find out why so many customers have trusted their asphalt needs to Enright Asphalt!
Sealcoating in Erie
Sealcoating is essential for protecting the pavement from the elements and slowing down bitumen oxidation. Asphalt contains a petroleum-based product called bitumen which binds the aggregate together and allows the pavement to remain flexible. However, as asphalt ages, it fades from black to gray due to the drying out of the bitumen caused by oxidation, traffic, snow removal, and water. Without protection, this can cause the pavement to become more prone to cracking.
Sealcoating adds a layer of protection to your pavement and helps keep the bitumen intact. This helps slow down the oxidation process and keeps the asphalt looking great. With proper maintenance, our sealcoating will not only help prevent future damage but also extend the life of your pavement.
Enright Asphalt provides reliable and professional sealcoating services. We take pride in delivering outstanding customer service and ensuring that each job is completed with quality workmanship and attention to detail. Contact us today to learn more about how our sealcoating services can help protect and enhance your pavement.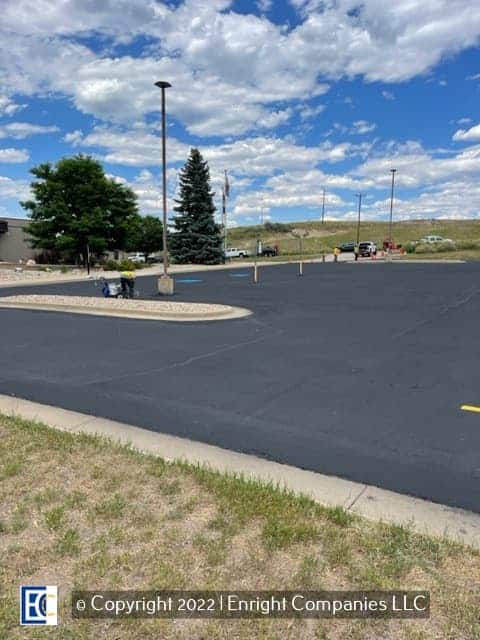 Commercial Sealcoating
At Enright Asphalt, we understand the importance of a proper asphalt management plan in helping property owners extend the life of their parking lot and decrease the total cost of ownership. Sealcoating is an essential part of this plan – and our team is highly experienced in providing commercial sealcoating services to businesses across Erie, CO.
We are proud to offer flexible scheduling for your convenience, including nights and weekends. That way, you can get the work done without disrupting the day-to-day operations of your business. Our team will partner with you to create a plan that limits the impact of using your parking lot while ensuring quality results.
Driveway Sealcoating
We provide residential sealcoating that can help extend the life of your driveway up to 20-30 years. Sealcoating enhances curb appeal and is a cost-effective solution compared to replacing your entire driveway.
Our team at Enright Asphalt will work with you every step of the way to ensure your driveway sealcoating project goes as smoothly as possible. We understand the importance of having a safe and well-maintained driveway and strive to ensure that each project meets the highest standards of excellence.
Our commitment to delivering outstanding results and excellent customer service makes us the perfect choice for all your asphalt needs. Contact us today to learn more about our residential sealcoating services in Erie, CO!
Common Sealcoating Questions
Sealcoating is a protective coating applied to asphalt surfaces to extend their lifespan and improve their appearance. It is commonly used on driveways, parking lots, and roads.
There are many questions that people commonly ask about sealcoating, such as when is the best time to apply it, how often it should be reapplied, and what are the benefits of using sealcoating.
Let us look at some of the most commonly asked questions and provide the information you need to make an informed decision about sealcoating your surface.
How frequently should sealcoating be done on an asphalt driveway?
Sealcoating an asphalt driveway is a great way to protect and preserve it, but it's important to know how often to do it. The recommended frequency is every 3-4 years, but this can vary depending on various factors such as:
The amount of traffic
The climate
The condition of the driveway
Heavy traffic and harsh weather can cause wear and tear, so if you notice any cracking or fading, it may be time to apply another coat of sealant. Heavy wear can reduce the frequency to 2-3 years.
A regular driveway inspection will give you a good idea of when it needs to be resealed. If the driveway is not exposed to heavy traffic and is in a mild climate, you may be able to wait a little longer between sealcoating.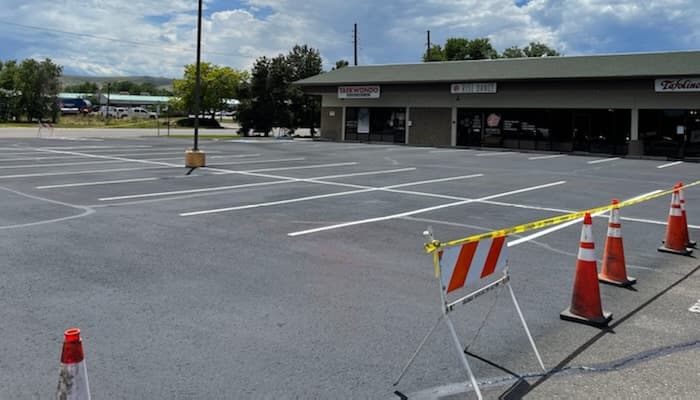 Can you apply sealcoating over an existing coating?
You know the saying, there can be too much of a good thing? Well, this is true with sealcoating. If you seal coat your asphalt too frequently, it can have a negative impact and shorten the life of your paved surface. Before having your driveway recoated, you will want to let 2-3 years pass. During this time, traffic and weather will wear some of the coatings off.
How long does sealcoating take to dry?
Sealcoating typically takes 24-48 hours to dry completely. However, the drying time can be affected by factors such as temperature, humidity, and the thickness of the applied coating.
Considering all the factors, generally, the newly sealed coated surface would be suitable for walking on in 5 to 8 hours and driving on in 24 to 48 hours.
Why Choose Enright for your Asphalt Seal coating?
We have been providing top-notch asphalt services for over 30 years. We are fully licensed and insured, so you can rest assured that the job will be done properly and safely. Our team is dedicated to delivering great customer service and quality results every time.
We provide free estimates on all our projects and strive to meet all of your sealcoating needs. So if you're looking for a reliable company with experience and expertise, contact Enright Asphalt today and let us help make your next project a success!