When we think of concrete, we often imagine it being poured into slabs, blocks, or pre-molded shapes, ensuring that it will take the shape of the area it fills. However, various projects require shaping or re-shaping of concrete after it's already set. For these, a concrete saw can come in quite handy.
A concrete saw is a power tool used specifically for cutting hard materials such as concrete, asphalt, brick, masonry, and tile. Concrete saws go by many names (consaw, road saw, slab saw to name a few), and there are several types available depending on the size and scope of the project, from hand-held models to walk-behinds that resemble a lawnmower.
While their size and shape varies, the real power in concrete saws lies in the blade. While a diamond saw blade is recommended for concrete, other options are also available.
Types of Concrete Saw Blades
Corundum Masonry Blade
Corundum masonry blades are inexpensive and widely available. However, what they possess in affordability and availability they lack in durability. They wear away incredibly fast; one foot of concrete cutting with corundum can wear the blade down by half an inch! This requires constant re-adjusting of saw depth to compensate, making concrete cutting with corundum blades a potentially laborious and meticulous process. Therefore, corundum blades are best suited for shallow cuts (anywhere from a quarter to half an inch).
Diamond Blade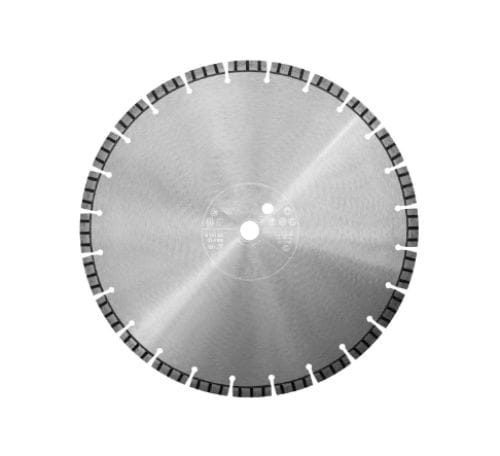 Although they're significantly more costly than corundum blades, diamond blades are the preferred choice when it comes to concrete cutting due to their performance and durability. Diamond is simply a harder stone than corundum that is much more suited to concrete cutting.
Diamond blades consist of a metal core with a synthetic diamond and metal composite surrounding the edge. As the blade sees more use, old and dull diamonds fall off, creating a fresh edge and maintaining superior cutting power that can outlast a dozen corundum blades. There are two types of diamond blades used for concrete cutting: dry cutting and wet cutting.
Dry cutting diamond blades usually have serrated edges to aid in blade cooling and waste ejection. While much better at cutting concrete than corundum, they generate a lot of heat and dust, and are best used for gradual cutting overtime.
Wet cutting diamond blades are by far the most popular blades for concrete cutting, especially for medium to large-sized projects. They can be toothed or smooth, and use water to lubricate / cool the blade as well as control dust. The vast majority of concrete contractors use wet-cutting diamond blades, as they are the fastest, easiest and cleanest way to cut concrete.
Types of Concrete Saws
Concrete saws come in a variety of sizes intended for various types of projects. For example, handheld saws work well for smaller projects that demand precision and mobility, while larger walk-behind models are better for larger jobs that require high volumes of cutting. There are also chainsaws specially designed for concrete cutting, which can access areas that are otherwise hard to reach using circular saws.
Concrete saws also vary by the power source they utilize. Gas-powered saws are preferred by contractors due to their ease of use, mobility, and power. However, they require more maintenance than other types of saws, produce significant dust and fumes, and are heavy and loud. Electric saws, though less powerful, are better suited for indoor cutting as they are lighter, more quiet, produce less dust and require electricity. There are also battery-powered concrete saws that, despite lacking in power, can come in handy for small jobs that require mobility without access to electricity.
Deciding which concrete saw to use requires a thorough understanding of the project scope and requirements, and at least a basic understanding of concrete cutting. Using the wrong type of concrete cutter can result in a number of undesirable outcomes, including structural damage to the concrete that can make matters worse than they were before.
DIY vs. a Concrete Professional
For DIY concrete cutting, hardware stores such as Lowe's and Home Depot offer rentals for both handheld and walk-behind concrete cutters, in addition to other types of concrete equipment.
Although it's possible to cut concrete yourself, it is a learned skill that not everyone is "cut out" for. Only a professional concrete contractor will have the expertise needed for a flawless cutting job, developed through years of constantly cutting and shaping the materials they work with.
For more information regarding concrete cutting and to speak with a professional concrete contractor near you, contact Enright Asphalt today!