Welcome to Enright Asphalt, a reliable sealcoating company. With 30 years of experience in the asphalt industry, we offer the highest quality of work at competitive prices. Our customer service is top notch and we are fully licensed and insured to do the job.
At Enright Asphalt, we specialize in sealcoating, asphalt maintenance, parking lot striping, and patching. We provide a wide range of services and are committed to delivering superior results for all of our customers. We use the latest technologies and materials to ensure your project is completed to the highest standards. We take pride in our work and strive to exceed your expectations.
If you are looking for a reliable sealcoating company in Commerce City, CO, look no further than Enright Asphalt. We are dedicated to providing quality work and excellent customer service. Contact us today to get started on your project.
Why Should I Seal Coat My Asphalt?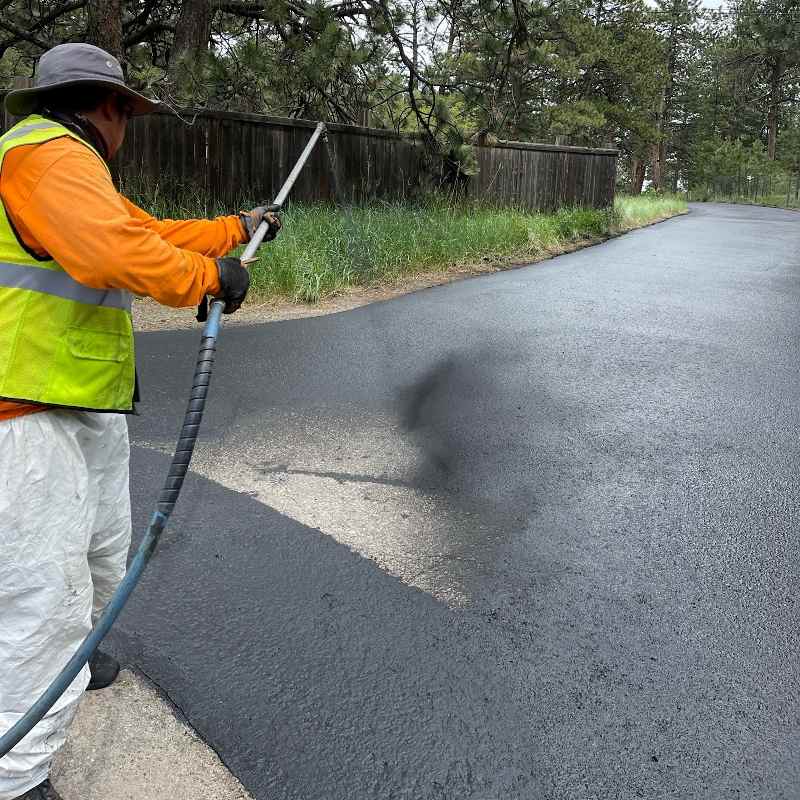 Asphalt sealcoating helps to protect asphalt pavement from the elements. Asphalt contains a petroleum-based product called bitumen, which binds the aggregate together and allows the pavement to be flexible. Over time, bitumen can dry out due to oxidation, traffic, snow removal and water, all of which can decrease the bitumen levels in the asphalt. When this happens, the pavement loses flexibility and becomes more prone to cracking.
Asphalt sealcoating helps slow oxidation and protect the bitumen from elements. It adds a protective layer to the pavement that keeps it looking new and from fading from black to gray. Sealcoating also helps to protect the pavement from damage caused by traffic, snow removal and water.
To ensure that the sealcoating is done correctly and provides the necessary protection, hiring a professional sealcoating company is important. A professional sealcoating company will have the knowledge and experience needed to apply the sealer correctly and ensure that it provides the desired protection.
Commercial Sealcoating Services
Enright Asphalt is an experienced commercial sealcoating company serving Commerce City, CO and surrounding areas. We specialize in working with commercial customers to ensure that their parking lots are properly sealed and maintained to extend their life and reduce costs.
Enright Asphalt understands the importance of having a flexible schedule to work around the business's needs. That's why they offer flexible scheduling, including nights and weekends, to minimize the impact on customers' parking lot use. We work closely with clients to create a customized asphalt management plan that fits their business and budget.
Whether it's a small parking lot or a large commercial property, Enright Asphalt can provide the right sealcoating solution. If you're looking for a reliable commercial sealcoating company in Commerce City, CO, look no further than Enright Asphalt.
Driveway Sealcoating Services
Sealcoating your driveway is important to maintaining it and increasing its longevity. If you live in Commerce City, CO, sealcoating your driveway every 2-3 years can extend its life span from 15-20 years to 20-30 years. Not only will sealcoating extend the life of your driveway, it will also enhance its curb appeal.
Replacing an asphalt driveway is costly, so sealcoating can save you money in the long run. The cost of sealcoating varies depending on the asphalt's condition and the driveway's size.
Asphalt sealcoating FAQs
Q: How long does a sealcoating last?
Asphalt sealcoating is an excellent way to keep asphalt pavement in top condition. However, it does have a lifespan. Typically, the coating will last three years. However, if you have heavy traffic, it might only last two years.
Q: Will sealcoating help if I have cracks in my asphalt pavement?
That is not quite how it works, unfortunately. Sealcoating doesn't seal larger cracks. We use hot rubber sealant for cracks over ¼" before applying the sealcoating.
Q: Do I need to have my asphalt pavement seal coated?
Sealcoating asphalt is a good investment, saving you from replacing it anytime in the near future. It produces a barrier to safeguard against oxidation and other destructive elements. It can help extend the life of an existing pavement by ten to twenty years (on average).
Thus, it's essential for homeowners, business owners, and property managers in Arvada, not only because it will make their property look great, but it will save them money in the end.
Sealcoating your asphalt is giving you the peace of mind you deserve. Not having this service today means you'll spend more money.
Why Choose Enright Asphalt for Your Sealcoating Needs?
At Enright Asphalt, we understand the importance of sealcoating your driveways, parking lots, and other surfaces. Our team of experienced professionals in Commerce City, CO are ready to provide a free estimate and help you determine the best solution for your needs. We are dedicated to providing the highest quality service and are fully insured to ensure the safety of your property. With competitive pricing, convenient scheduling, and our commitment to customer satisfaction, choose Enright Asphalt for your next sealcoating project.