For over 30 years, Enright Companies has been the leading paving company, providing top-notch services such as parking lot striping, paving, sealcoating, striping, patching, and concrete. As a small business, we're flexible and easy to work with, always accommodating our customers' scheduling needs. Our extensive experience in the paving industry enables us to deliver high-quality products and services at competitive prices, ensuring long-lasting results for our clients.
Driveway Sealcoating in Broomfield
As a leading sealcoating company serving the Broomfield area, we understand the importance of maintaining and protecting your asphalt surfaces. Here's what partnering with us would bring to you and your sealcoating needs:
Experience and Expertise
Exceptional Customer Service
High-quality materials
Local company with a better understanding
Commercial Sealcoating
Whether it is to protect your asphalt driveway or parking lot asphalt surface, our company has garnered experience and skills to deliver the best results under your budget and on time.
Commitment to quality and safety of the environment is one of our pillars that has helped us grow in the commercial sealcoating business for over thirty years.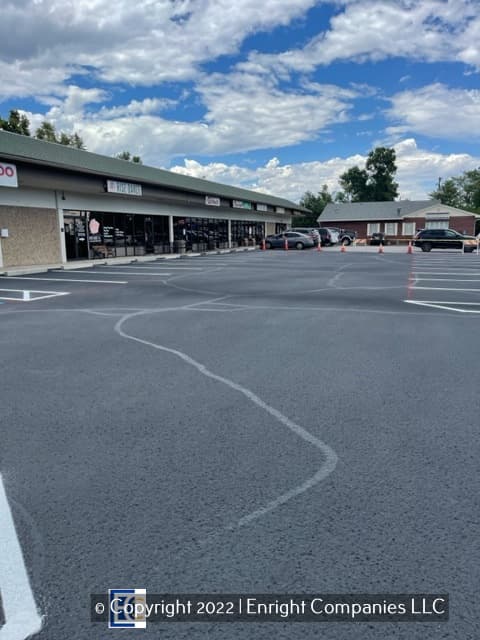 Common Sealcoating Questions
We believe that people can make a much better and smarter choice with the right information. So to help you understand the entire sealcoating process, its uses, and benefits, let's take a look at a few frequently asked questions about sealcoating along with detailed answers.
How often should sealcoating be done on asphalt?
In general, it is recommended to have sealcoating done every 2-3 years for residential driveways and every 2-4 years for commercial parking lots or high-traffic areas.
It's also important to remember that sealcoating is a preventive maintenance, not a cure. If the surface already has substantial damage, it may need more extensive repairs before sealcoating.
Can sealcoating be done in cold weather?
It's important to keep in mind that the ideal temperature for sealcoating is between 50-90°F, and it should not be applied if the temperature is expected to drop below freezing within 24 hours after application. In Broomfield the sealcoating season start in April and go through September sometimes early October
So, on average, the overnight temps need to be at least 55 for the coating to dry/cure properly.
Does sealcoating fill cracks?
Sealcoating creates a protective layer over the asphalt surface and can help to fill in small cracks and prevent them from growing larger. It fills hairline cracks, but anything over 1/2" needs to be sealed with hot rubber sealer.
Why Choose Erickson for your Asphalt Sealcoating?
Making a smart choice not only helps you get the best results and service but also saves a lot of money in the long run. Choose us to ensure the best results.
With our experts and their expertise, we assure you will get the best results, as we have been delivering nothing but the best for over thirty years.
Contact us today to schedule a consultation and let our team of experts give your asphalt surfaces the protection they need.