Enright Asphalt has been providing top-quality sealcoating services for over 30 years to customers in Brighton, CO. We are fully licensed and insured. We have built a reputation for delivering excellent customer service. Our experienced team of professionals is always ready to assist you with all your asphalt needs,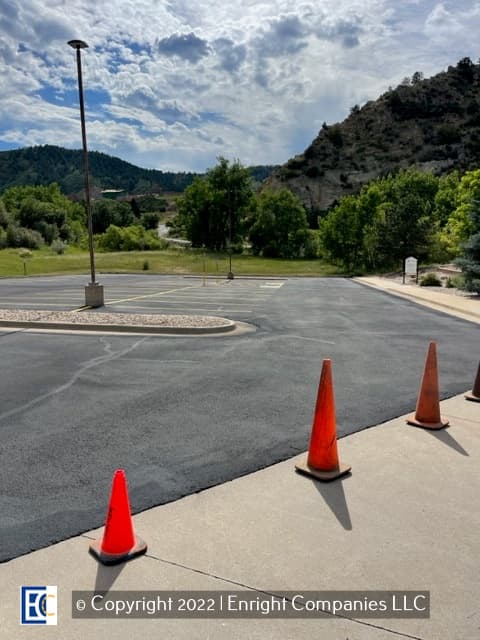 We understand that each job requires individual attention, so we work closely with our clients to ensure their satisfaction. We use the highest-grade materials available to create durable and reliable results that stand up to Colorado's extreme weather conditions. Our wide range of services includes driveway sealing, parking lot resurfacing, asphalt repair and maintenance, crack filling, striping, and more.
At Enright Asphalt, we strive to exceed expectations by going above and beyond to make sure our clients receive the best possible service. With decades of experience in the industry, we know exactly how to get the job done right the first time. Contact us today to learn more about how we can help you with your sealcoating needs.
Sealcoating
Sealcoating helps protect your pavement from oxidation, as well as traffic, snow removal and water, making it less susceptible to cracking. It also helps preserve the color of your asphalt, keeping it looking black instead of fading to gray. With regular maintenance and sealcoating, you can be sure that your asphalt will continue to look its best for many years.
We are licensed and insured, so you can trust that your pavement is safe in our hands. We have been serving Brighton, CO and the surrounding area for over 30 years, with excellent customer service every time. When it comes to asphalt sealcoating, you can rely on us to get the job done right.
Driveway Sealcoating
Sealcoating your driveway every 2-3 years will not only enhance its curb appeal but also increase its life span from 15-20 years to 20-30 years. This is an affordable way to protect and extend the life of your asphalt driveway, saving you money in the long run.
At Enright Asphalt, we understand how important it is to maintain a high-quality surface that stands up to harsh weather conditions while looking great at the same time. We use advanced techniques and quality products to ensure your driveway lasts as long as possible. Our highly trained professionals strive to provide excellent customer service during each step of the process, ensuring your satisfaction with our work.
Parking Lot Sealcoating
At Enright Asphalt, we specialize in commercial sealcoating services. We understand that parking lots are a critical asset to any business, and we want to help you maximize the value of your investment. Our professional team is here to create an asphalt management plan tailored to your specific needs, ensuring that your parking lot lasts for years to come.
We offer flexible scheduling options, including nights and weekends, so our services won't interfere with daily operations. With us on your side, you can rest assured knowing that your parking lot will be maintained properly and remain safe and functional throughout its lifetime.
Our team has over 30 years of experience providing exceptional service and unbeatable quality. From asphalt pavement repair to line striping, we have you covered. Let us show you why Enright Asphalt is the preferred choice for businesses across Brighton, CO. Contact us today to learn more about how we can help you get the most out of your parking lot.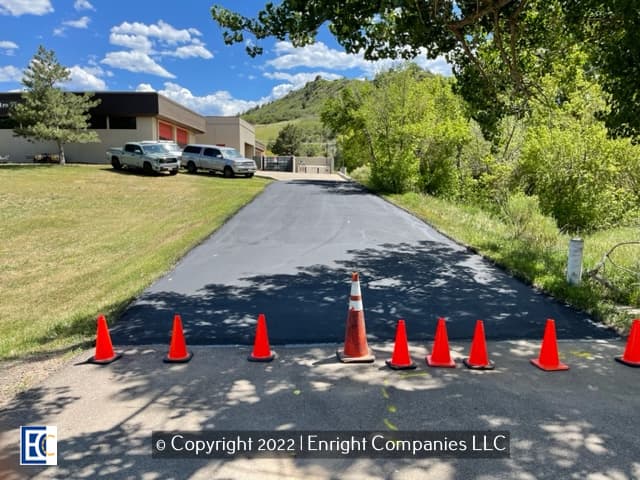 Asphalt sealcoating FAQs
Q: How long does a sealcoating last?
Asphalt sealcoating is an excellent way to keep asphalt pavement in top condition. However, it does have a lifespan. Typically, the coating will last three years. However, if you have heavy traffic, it might only last two years.
Q: Will sealcoating help if I have cracks in my asphalt pavement?
That is not quite how it works, unfortunately. Sealcoating doesn't seal larger cracks. We use hot rubber sealant for cracks over ¼" before applying the sealcoating.
Q: Do I need to have my asphalt pavement seal coated?
Sealcoating asphalt is a good investment, saving you from replacing it anytime in the near future. It produces a barrier to safeguard against oxidation and other destructive elements. It can help extend the life of an existing pavement by ten to twenty years (on average).
Thus, it's essential for homeowners, business owners, and property managers in Arvada, not only because it will make their property look great, but it will save them money in the end.
Sealcoating your asphalt is giving you the peace of mind you deserve. Not having this service today means you'll spend more money.
Not sure how much your project in Brighton sealcoating project will cost?
Call our team today for a free estimate! We would gladly offer you a no-obligation estimate for your paving project! Call us now at 408-478-9402 to get started!