Are you searching for a sealcoating company in Aurora, CO, to finish your next asphalt paving project? Contact Enright Asphalt today to get started! With years of expertise, we are proud to be recognized as the leading asphalt paving company in the metro area!
What is sealcoating?
Sealcoating is an asphalt emulsion mixture composed of chemicals, sand and water. The coating provides a protective layer over existing pavement to prevent the asphalt binder from degradation.
Enright Asphalt prides itself on offering the best results for your parking lot and driveway projects. We provide all types of paving services for commercial and residential clients.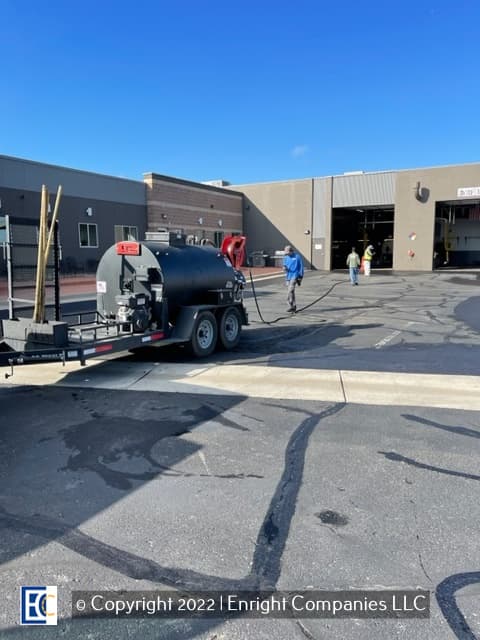 Residential and commercial asphalt sealcoating
Enright Asphalt specializes in residential and commercial asphalt paving, sealcoating, parking lot striping and pavement maintenance for customers throughout Aurora, CO. We are your one-stop shop for all your asphalt needs.
Our goal is to offer you first-class asphalt services, keeping your pavement looking amazing for years to come!
A licensed and insured company
Enright Asphalt is a licensed and insured company offering remarkable sealcoating services to the Aurora area for over 30 years. We pride ourselves on our reputation and work. When you choose us, you can be confident that you're getting the best possible service at the most reasonable prices.
Competitive Pricing
Enright Asphalt is proud to deliver competitive pricing on all our asphalt sealcoating services in Aurora, CO. While we are not the cheapest asphalt maintenance company, we believe we offer the most value to our clients.
High-quality asphalt sealants
Our company utilizes only top-notch sealants that last. We carefully source them from the best manufacturers and suppliers in the market. We also make sure every material we use adheres to industry standards.
That means you will not have to think about your asphalt sealing, peeling, or flaking off after a few months.
Free Estimate
We know that some of our customers have budget constraints. That's why we provide free estimates, so you can be sure that you're only getting the best value for your money.
We always send a team member to your site to evaluate the condition of your asphalt. We can offer the best sealcoating solution for the asphalt surface and a more comprehensive estimate through the assessment.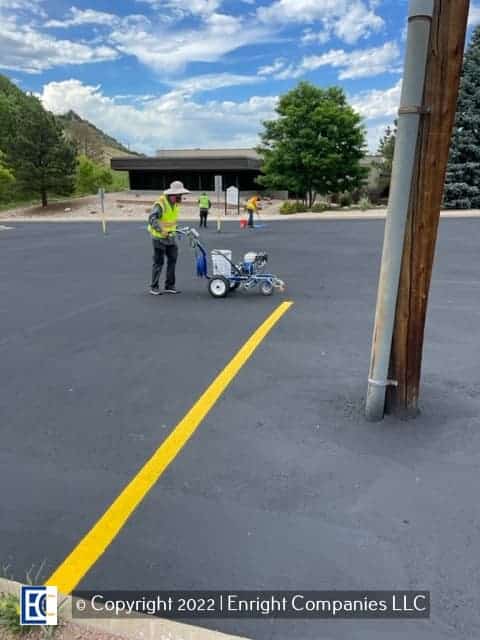 Why Choose Us?
Knowing what sealing is about is essential. Understanding the entire process will make you feel positive about having our crew do the work. At Enright Companies, we also provide free consultations to all our potential customers.
At Enright Companies, we provide a broad spectrum of asphalt sealcoating services to meet your needs. We specialize in residential and commercial sealcoating and commit our trusted team to offer quality workmanship.
Enright Asphalt offers free, no-obligation quotes to all our customers in Aurora, CO, so you can learn what it takes to finish your project. We also provide the expertise, exact procedures, and best resources to make sure each sealcoating project is done to your satisfaction and on schedule.
Ready to start your sealcoating project? Call us now at 408-478-9402 to get started and schedule a free consultation. Our phone lines are always available. You may also reach us by sending a message through our contact form.
We look forward to serving you!