Dedicated to serving our community here in Arvada, the Enright Asphalt team is committed to providing our clients with the best value in the metro area. You can rest assured that your project will be finished to your satisfaction with our dedicated team.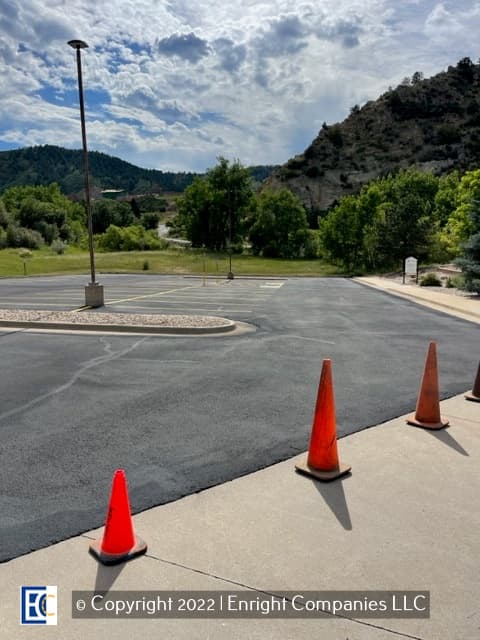 We are your expert asphalt sealcoating team in Arvada
A fresh layer of sealcoating on your pavement makes it look fresh and new. It also helps safeguard your paving for years if done regularly. Usually, every three to four years is a great maintenance schedule to follow.
Extend
Maintaining a good layer of seal coat on top of asphalt can help it last for many years without having to be replaced. To ensure its longevity and optimum protection, it is recommended to apply a new coat of seal coat every three to five years.
Protect
The snow, sun, and car oil spills can cause a huge amount of damage to your pavement. Sealcoating prevents the sun's harmful UV rays from deteriorating your pavement and provides protection against chemicals.
Preserve
Sealcoating is a crucial part of regular asphalt maintenance. It helps to restore all the sealants and moisture inside your asphalt, helping to stop potholes from appearing.
Asphalt paving for your home or business property
Over the years, our Enright Companies team has worked closely with homeowners and business owners of all types, offering a broad spectrum of asphalt paving services.
When you choose us, rest assured that we'll make your asphalt paving project as smooth as possible. From the start of the project, with inspection, consultation, and estimation, through full completion, we work hard to make the process smooth.
As one of the best paving companies in the region, you will receive remarkable service each step of the way. With solutions to meet your unique needs, you can enjoy a customized asphalt paving service, which will be installed with quality materials.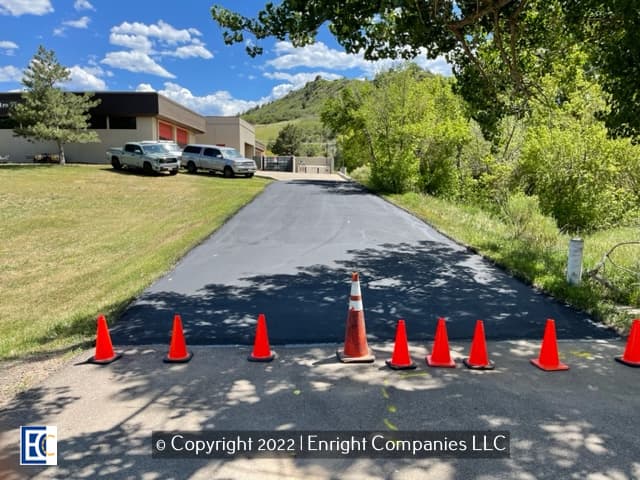 Asphalt sealcoating FAQs
Q: How long does a sealcoating last?
Asphalt sealcoating is an excellent way to keep asphalt pavement in top condition. However, it does have a lifespan. Typically, the coating will last three years. However, if you have heavy traffic, it might only last two years.
Q: Will sealcoating help if I have cracks in my asphalt pavement?
That is not quite how it works, unfortunately. Sealcoating doesn't seal larger cracks. We use hot rubber sealant for cracks over ¼" before applying the sealcoating.
Q: Do I need to have my asphalt pavement seal coated?
Sealcoating asphalt is a good investment, saving you from replacing it anytime in the near future. It produces a barrier to safeguard against oxidation and other destructive elements. It can help extend the life of an existing pavement by ten to twenty years (on average).
Thus, it's essential for homeowners, business owners, and property managers in Arvada, not only because it will make their property look great, but it will save them money in the end.
Sealcoating your asphalt is giving you the peace of mind you deserve. Not having this service today means you'll spend more money.
Not sure how much your project in Arvada will cost?
Call our team today for a free estimate! We would gladly offer you a no-obligation estimate for your paving project! Call us now at 408-478-9402 to get started!