If your home was built within the last half-century, it probably has a concrete driveway, concrete walkway or both. Concrete is an ideal material for outdoor surfaces because it is durable enough to stand the test of time. But what do you do when your exterior concrete surfaces begin to show signs of aging? Here's what you should know about concrete resurfacing and replacement. 
Signs of Aging
Although it should typically last for years, concrete is not impervious to wear and tear. Over time, cracks can appear due to heavy loads, soil displacement and underlying roots. Soon vegetation can start to sprout up creating an eyesore that negatively impacts the look of your home. Concrete walkways and driveways can even become a dangerous liability if they split and create obstacles that can cause someone to trip. 
Aging concrete is a very common source of headaches for today's homeowners. To correct the problems, you can either have the old surface torn out and replaced or resurface the existing concrete at a lower cost. That said, while professional concrete resurfacing can give your concrete walkways and driveway new life, they aren't appropriate for every situation.
Repair or Replace?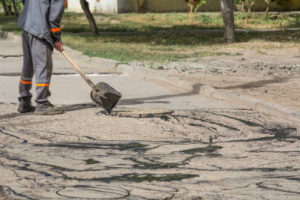 If your exterior concrete is beginning to crack or age, you can either have it resurfaced or replaced. Concrete resurfacing involves renewing old, worn concrete sidewalks, driveways or patios by essentially adding a fresh top layer. This is cheaper than outright replacement, but it won't last as long. 
With concrete resurfacing, the old or damaged concrete surface is thoroughly cleaned. Holes and cracks are then filled, and a fresh layer of concrete is overlaid atop the existing layer. The process generally starts with the removal of weeds and plants. Then the surface is power washed to remove grease, dirt and bits of deteriorating concrete.
Holes and cracks are then filled with mortar or a polymer concrete that is leveled evenly to match the rest of the surface. The surface is then primed and covered by a thin layer of new concrete which is ultimately smoothed with a trowel. At this point, you may have the option of adding color, texture or decorative stones. The new surface may also receive treatment to offer some level of protection against weather, dirt and daily wear and tear. 
While it can be a nice stopgap if you're looking to repair an external concrete surface on a budget, concrete resurfacing has pros and cons:
PROS
It's cheap in relation to the cost of raw materials and labor

It is faster than replacing an existing concrete surface
CONS
It's only a temporary restoration process since it doesn't permanently repair the surface

It's not suitable for concrete surfaces with large cracks and holes
What Should You Choose?
While concrete resurfacing looks great immediately after it's finished; many homeowners are disappointed when they see how it ages. In many instances, concrete resurfacing is merely a stopgap measure that helps extend the life of a concrete surface until it can be replaced. Unfortunately, it doesn't always work, and you may end up having to pay for wholescale concrete replacement down the line anyway. Many concrete companies actually refuse to offer concrete resurfacing as an option, because they understand these concerns and place a higher value on complete concrete replacement. 
When deciding between concrete resurfacing and concrete replacement, it's important to talk to a concrete specialist. A reputable local provider can give you advice on whether resurfacing actually makes sense based on your specific circumstances. If not, they will generally recommend replacement and give you an estimate for the job. 
In the long run, it's essentially about prioritizing time and money. If concrete replacement can help save you time and frustration in the long run, it's likely to be the wisest decision. If you need a quick fix, on the other hand, resurfacing may be able to buy you some time and save you some money. Just bear in mind that your savings may not be as significant as you hoped if you ultimately end up having to replace you concrete in a year or two.
Ask the Experts
When it comes to deciding between replacement or resurfacing, it really depends on the specific issues that need to be addressed. For minor problems and cracks, resurfacing may be all you need. For more extensive problems, it doesn't bring as much value. 
The concrete specialists at Enright Companies can help you decide between each option based on your unique situation and need. For nearly three decades, we've provided beautiful, high-performing concrete surfaces for businesses and homeowners in the Denver metro area. We know the best materials and installation methods to provide you with a durable, attractive surface that fits your budget. Contact our office and we will be happy to answer your questions.